This week in Husker history
The week of Sept. 8-14, looking back in five-year intervals
1903:
NU coach Bummy Booth says
rule changes
won't have a long-term effect on the style of the game.
1918:
During World War I, U.S. Sen. Gilbert Hitchcock, D-Neb., asks the
War Department
to rule on whether intercollegiate football will be permitted on campuses with Student Army Training Corps programs.
1938:
Coach Biff Jones says he'll have to rely heavily on
sophomores
during the upcoming season.
1963:
Nebraska is picked to finish
second
in the Big Eight behind Oklahoma.
1968:
Paul Rogers' 51-yard field goal in the final half-minute lifts Nebraska to a
13-10 win
over Wyoming. During the game, Ernie Sigler replaces Frank Patrick at quarterback, a job he would keep for the rest of the season.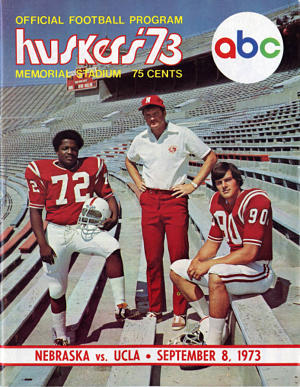 1978:
The Huskers struggle to beat
Cal
, 36-26. Nebraska didn't get its first lead until early in the fourth quarter.
1983:
Mike Rozier runs for four touchdowns and 191 yards as he breaks I.M. Hipp's school career rushing record in a 56-20 win over
Wyoming
,
1988:
Troy Aikman and UCLA
drub the Huskers
, 41-28, after stunning Nebraska with a 28-0 first quarter.
1993:
The Huskers defeat
Texas Tech
, 50-27, in a game Nebraska didn't put away until late in the third quarter.
1998:
Third-string QB Monte Christo is pressed into service as the Huskers defeat
Cal
, 24-3, on the road.

2003:
David Dyches kicks four field goals as the Huskers turn away
Penn State
, 18-10, in what turned out to be PSU coach Joe Paterno's last game at Memorial Stadium.
* Wayback Machine link – may take several seconds to load

---