This week in Husker history
The week of Dec. 28 through Jan. 3, looking back in five-year intervals:
1914-15:
The Cornhuskers schedule
Notre Dame
for the first time, starting a series that would see the teams meet every year from 1915 through 1925. Also, Dick Rutherford is elected
captain
for 1915.
1919-20:
Nebraska arranges its first East Coast game, against
Rutgers
at New York City's Polo Grounds.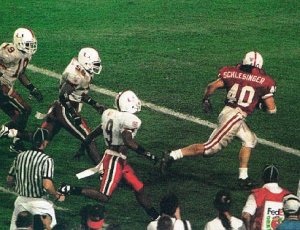 1994-95:
The Huskers win their first national title in 23 years by rallying to beat Miami on the Hurricanes' home turf in the
Orange Bowl
, 24-17.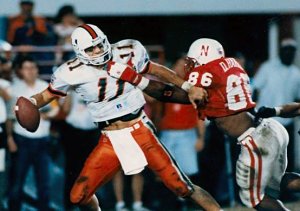 1954-55:
Duke throttles the Huskers in the
Orange Bowl
, 34-7.
1964-65:
Arkansas rallies for a 10-7 win over Nebraska in the
Cotton Bowl
.
1974-75:
Shut out for three quarters, the Huskers storm back for a 13-10 win over Florida in the
Sugar Bowl
.
1979-80:
Houston scores on fourth-and-goal with 12 seconds left to beat Nebraska in the
Cotton Bowl
, 17-14.
1984-85:
Led by quarterback Craig Sundberg, the Huskers dominate the second half for a 28-10
Sugar Bowl
win over LSU.
1989-90:
Florida State reels off 34 unanswered points and turns a 10-7 Nebraska lead into a 41-17 rout in the
Fiesta Bowl
.
1999-2000:
Nebraska grinds out 321 rushing yards to put away Tennessee in the
Fiesta Bowl
, 31-21. Afterward, Charlie McBride announces his
retirement
, and Craig Bohl is promoted to defensive coordinator.
2004-05:
Charles Bryant
, who in the 1950s became Nebraska's first African-American football letterman since 1913, dies at
age 71
. Also, cornerback
Fabian Washington
* opts to skip his senior season and enter the NFL draft, and running back David Horne is
dismissed
* from the team.
2009:
Nebraska holds Arizona to six first downs and 109 yards of total offense in a 33-0 beatdown in the
Holiday Bowl
.
* Wayback Machine link – may take several seconds to load

---