This week in Husker history
The week of Dec. 15-21, looking back in five-year intervals
1913:
Nebraska opposes a proposal to let Missouri Valley Conference schools schedule
neutral-site games
.
1918:
A 1919 game that had been tentatively scheduled with
Indiana
, coached by former Nebraska coach Jumbo Stiehm, is called off.
1923:
Tackle
Henry Bassett
is named to Walter Camp's third-team All-America squad.
1933:
George Sauer
is named a first-team Walter Camp All-American.
1938:
Nebraska coach
Biff Jones
helps the Western all-stars begin preparations for their Jan. 2 charity game against the East in San Francisco.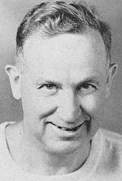 1958:
Dick McCashland
is named to Pitt's "all-opponent team." As a gag, three Pittsburgh sportswriters are named honorary captains for overhyping the Panthers during the week before their upset loss to Nebraska.
1968:
Despite a disappointing 6-4 season, Nebraska leads the Big Eight in
attendance
.
1983:
Mike Rozier adds the
Maxwell Award
to his trophy collection.
1993:
Erma Osborne
, mother of Nebraska coach Tom Osborne, dies at age 86 in Hastings.
1998:
Baylor hires former Husker assistant
Kevin Steele
as its head coach.
2003:
Even though Husker fans are getting restless,
Gil Brandt
* has praise for Steve Pederson's ongoing search for a head coach.
2008:
Running back
Rex Burkhead
* of Plano, Texas, commits to the Huskers.
* Wayback Machine link – may take several seconds to load

---