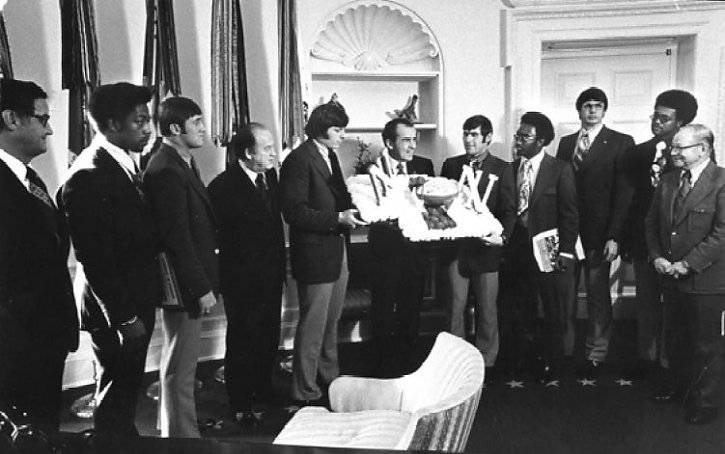 1972:
President Richard Nixon hosts members of the 1971 national championship team at the White House, and three seniors – Jerry Tagge, Jeff Kinney and Larry Jacobson – get the news that they have been selected in the
first round
of the
NFL draft
.
MORE PHOTOS & AUDIO

HERE
This week in Husker history
The week of Jan. 29-Feb. 4, looking back in five-year intervals
1927:
Coach E.E. Bearg announces spring practices will begin
Feb. 9
, an early start designed to avoid conflicts with the baseball and track seasons.

1942:
Former Husker great
John Westover
dies at
age 62
. Also, backfield coach
Glenn Presnell
becomes the first former NU player to rise to
head coach
at Nebraska,
replacing
Lawrence "Biff" Jones, who was recalled to active Army duty. Presnell, 37, would coach one season before enlisting in the Navy. He later would become head coach and athletic director at Eastern Kentucky. |
NU coaches
1947:
Dougal Russell
joins the staff as backfield coach after the departure of Glenn Presnell.
1957:
Wyoming hires Michigan State assistant
Bob Devaney
as head coach.
1962:
Wyoming's
board of trustees
ends four weeks of suspense and grudgingly
releases
Bob Devaney from his contract on an 8-4 vote, finally making Devaney's move to Nebraska official. The trustees, prolonging the drama, did not announce their decision until an hour after their meeting adjourned. |
More 1962 coverage
1972:
Bob Devaney
is named coach of the college all-star team for its July 28 contest against the Super Bowl champion Dallas Cowboys.

1977:
Sam Francis
, who starred at Nebraska in the mid-1930s and was the Heisman Trophy runner-up in 1936, is elected to the College Football Hall of Fame. |
Bio
|
2010 story
2007:
Defensive coordinator
Kevin Cosgrove
shoots down a report that he's a leading candiate for the Minnesota Vikings' defensive coordinator position. |
NU assistants
2017:
Nebraska signs a consensus
top-25 class
of
recruits
, including three players who were part of the ballyhooed "Calibraska" movement.