This week in Husker history
The week of Dec. 29-Jan. 4, looking back in five-year intervals
1903-04:
Intercollegiate football comes under fire at a meeting of the Nebraska Teachers' Association, but Nebraska's
James Ingersoll Wyer
, the university's librarian and a member of the Athletic Board, comes to its defense.
1918-19:
Halfback
Paul Dobson
is elected captain of the 1919 Cornhuskers.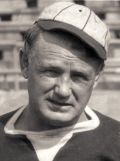 «
1923-24:
The stress of a tough year takes its toll on Nebraska coach
Fred Dawson
, who is recuperating in Colorado from a "nervous breakdown" suffered at the end of the season.
1933-34:
George Sauer
does it all
in the East-West Shrine game, scoring the game's only touchdowns and intercepting a pass to set up one of the scores. Also, Nebraska coach
Dana X. Bible
defends college football from criticism by U.S. Agriculture Secretary Henry Wallace.
BOWL GAMES
In this batch of bowls, three stand out: Nebraska's first win in a major bowl, the go-for-two loss to Miami and another narrow defeat 10 years later that served as a springboard to three national titles.
1938-39:
Former Husker quarterback Willard "Dutch" Witte
resigns
after
six seasons
as head coach at Wyoming. Also, the wife of
John Westover
and two other people are killed in a car crash, and the former Husker star is injured.
1943-44:
Former Husker
Bob DeFruiter
scores on a 20-yard pass play as the East and West Shrine Game teams battle to a 13-13 tie.
1948-49:
In search of a coach, Nebraska gets set to interview Oregon's
Jim Aiken
, whose Ducks went 9-2 in 1948, including a Cotton Bowl appearance.
1953-54:
George Sauer's
name comes up as Nebraska looks for an athletic director to replace Potsy Clark.
2003-04:
Five weeks into Steve Pederson's search for a new head football coach, Arkansas' Houston Nutt
says no
.