This week in Husker history
The week of Feb. 26-March 3, looking back in five-year intervals
1902:
The Cornhuskers' schedule for 1902 is completed after
Wisconsin
backs out of an agreement to play Nebraska. The teams had played in 1901 in Milwaukee but would not meet again until
1965
.
1922:
Coach Fred Dawson takes over as acting
athletic director
as Fred Luehring leaves to run the athletic department at
Minnesota
.
1932:
The baseball season appears to be a likely casualty as Depression-era
hard times
hit the Athletic Department amid a slump in football revenues.
1937:
Spring drills
begin for the Huskers under new coach Biff Jones.
1942:
Seventy-five players report as
spring drills
begin under new coach Glenn Presnell.
«
1947:
The
Big Six
conference gets ready to grow to seven as it agrees to admit
Colorado
. The move creates an annual border-state clash between the Huskers and Buffaloes, teams that last met in 1907. The league's decision to change its formal name to "Mid-West Conference" would soon be reversed – and in an odd twist, it could be said that CU moved from the
Big Seven to the Big Seven
. |
NU-CU series
1962:
Dick Monroe
, an assistant coach during Bill Jennings' five-year tenure at Nebraska, joins the staff at Idaho, whose new head coach is another former Husker assistant, Dee Andros.
1967:
Bob Devaney
re-evaluates
his offense in the aftermath of the Sugar Bowl drubbing and considers adding the I formation to the existing mix of unbalanced T, pro-style and spread.
1977:
Football News predicts another
fourth-place
Big Eight finish for the 1977 Huskers.
1987:
The faces of Bob Devaney and Tom Osborne appear on
milk cartons
to drum up donations for a new recreation center and indoor football practice field.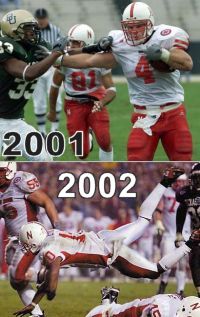 «
2002:
Traditionalists cringe at the announcement of a pending
redesign
of Nebraska's
football uniforms
. With the unveiling still several months away, fans are left to guess how
extensive
the redo will be. (The new look would be scrapped after just one season.)
2007:
Former Husker, Packer and Steeler
Lloyd Voss
dies in
Pittsburgh
at age 65. Also, Bill Callahan's
agent hopes for a contract extension for the head coach, who has just taken the Huskers to their first January bowl since the 2001 season. (Active link no longer available.)
---