This week in Husker history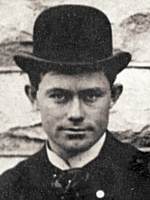 The week of May 26-June 1, looking back in five-year intervals
«
1898:
Fielding Yost
gets ready to accept the coaching job at Nebraska. Lincoln would be one of several one-year stops for Yost before he landed at Michigan and eventually in the College Football Hall of Fame. Coincidentally, Yost replaced another future Hall of Fame coach at Nebraska, Eddie "Robbie" Robinson, whose two-year tenure produced a 10-4-1 record. |
HOF Huskers
1923:
Memorial Stadium's
cornerstone
is put in place during a ceremony attended by about 500. Groundbreaking had taken place about a month earlier.
1968:
Wayne Meylan
is named to the West squad for the Coaches All-American football game, scheduled for June 28.
1973:
Bill Olds, Rich Glover and Joe Blahak are named to the
College All-Star team
that will play the Miami Dolphins in mid-July.
1988:
Richard Schnell, a referee who
broke his leg when be became entangled in television equipment along the east sideline at Memorial Stadium during the 1987 UCLA game, files a lawsuit against ESPN.
2018:
Six
kickoff times
are announced, including the Sept. 1 opener against Akron at 7 p.m.