This week in Husker history
The week of March 29-April 4, looking back in five-year intervals:
1900:
Fielding H. Yost
, the coach at Nebraska in 1898 and Kansas in 1899, becomes the head coach at Stanford. He would spend most of his Hall of Fame career at Michigan.
1930:
Emphasis is placed on
the passing game
as spring drills continue under coach Dana X. Bible.
1955:
Don Comstock stars in the
spring game
as the Reds defeat the Whites, 14-7. The game was marred by 18 fumbles.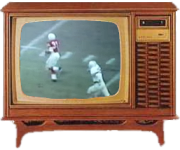 1965:
The Nebraska-Oklahoma game is scheduled for a
network telecast
for the first time and is moved to
Thanksgiving Day
. It is also to be the first nationally televised football game between two Big Eight teams.