This week in Husker history
The week of July 17-23, looking back in five-year intervals
1921:
Last season's football captain,
Bill Day
, goes to work as an assistant coach for Fred Dawson.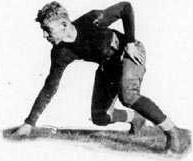 «
1931:
U.S. Marine Lt.
Frank Dailey
, a Nebraska halfback in the mid-1920s, describes his role in attempting to hunt down Nicaraguan insurgents led by Augusto César Sandino.
1946:
Former Husker
Virgil Yelkin
is named athletic direcor at the University of Omaha.
1961:
Former Husker
Pat Fischer
makes a good early impression as a rookie in the St. Louis Cardinals' camp. (He would play 17 NFL seasons.)
1971:
Preseason expectations
for the Huskers are high, but ABC's Chris Schenkel is not among those picking Nebraska to repeat as national champions.
1976:
Bill Holmes
, a Husker monster back from Lincoln, dies in his sleep at age 19. An
enlarged heart
was determined to be the likely cause of death.
1991:
I-back
Leodis Flowers
says football wasn't fun anymore, and that's what led to his exit from the team.
1996:
Tom Osborne notifies the NFL that he won't allow
scouts
on campus.
2001:
Husker placekicker
Josh Brown
is fined $350 in an assault case.
2006:
The Huskers are the
media's pick
to win the Big 12 North.
2011:
ESPN's Rick Reilly comes up with a
Big Ten primer
for conference newcomer Nebraska.
2016:
An unofficial
media poll
picks Nebraska to finish
second
in the Big Ten West.