This week in Husker history
The week of Sept. 1-7, looking back in five-year intervals
1958:
Bill Jennings boots 1957 co-captain
Mike Lee
from the team for undisclosed reasons.
1968:
Big Eight
skywriters
pick Oklahoma and Nebraska to finish first and second in the conference.
1973:
The Huskers get ready for Tom Osborne's debut against
UCLA
.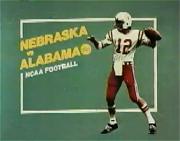 «
1978:
In a game originally scheduled for November, top-ranked
Alabama
shuts down the visiting Huskers, 20-3, in a nationally televised nighttime season opener for both teams.
1983:
Nebraska gains a stronger grip on its
No. 1 ranking
after its win over Penn State.
1988:
The Huskers improve to 2-0 with a 63-13 pasting of
Utah State
.
1993:
Nebraska opens the season with a 76-14 rout over
North Texas
.
1998:
Subbing for the injured Bobby Newcombe, Eric Crouch gets his first start at quarterback as the Huskers beat
Alabama-Birmingham
, 38-7.
2003:
Utah State keeps the game close for the first 30 minutes, but Nebraska pulls away in the second half for a
31-7 win
.
2008:
The Huskers' offense sputters, but the defense and special teams come through in a 35-12 win over
San Jose State
. Also, former Osborne assistant
Lance Van Zandt
dies at
age 69
in Texas.
2013:
The Huskers return two interceptions for touchdowns in a 56-13 romp over
Southern Miss
.