This week in Husker history
The week of April 13-19, looking back in five-year intervals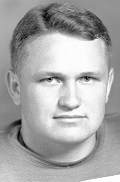 «
1939:
It's "Harvard" vs. "Yale" in three scrimmages (
1
,
2
,
3
), with the final one of spring still to come. Herm Rohrig is out for the rest of spring with a chipped bone in his ankle.
1949:
In the
final scrimmage
of spring, the Whites score during extra time in the fourth quarter and defeat the Reds,
13-6
, in front of a crowd of about 1,500.
1959:
The Reds beat the Whites in a
scrimmage
, 20-6. (The Varsity-Alumni spring game would not take place until May 9.)
1969:
Assistant coach Jim Ross runs the first few
spring practices
as head coach Bob Devaney attends his father's funeral in Michigan.
1999:
Frank Solich finds consistent offense to be
lacking
in the
spring game
. Mean­while, receiver Shevin Wiggins is granted an
extra year
of eligibility by the NCAA.
2004:
Fans get their first look at the new West Coast offense as the Reds bury the Whites in the
spring game
.
2009:
Zac Lee puts up the best numbers among the
spring game
quarterbacks, completing all but three of his 18 passes. Latravis Washington and Cody Green also had their moments.