This week in Husker history
The week of April 10-16, looking back in five-year intervals
1911:
Plans are made to lay
sod
on Nebraska's playing field at a cost of $800, but the new surface is not expected to last more than one season.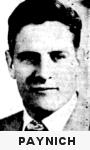 «
1951:
The Varsity
scores as time expires
to defeat the Alumni, 27-25, in the spring game. The touchdown, on a 9-yard pass from John Bordogna to George Paynich, capped a 48-yard drive after the Alumni had taken the lead with just 47 seconds left.
2001:
Defense rules in the
spring game
as Sandro DeAngelis' three field goals provide the difference in the Reds' 16-7 win over the Whites. Quarterback Eric Crouch was among the starters sitting out.
2006:
The Reds cruise to a
35-7 win
in the spring game.
2011:
Jamal Turner and Brion Carnes show promise in the
spring game
, won by the Reds, 32-29.
---