This week in Husker history
The week of Feb. 12-18, looking back in five-year intervals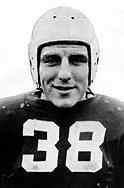 «
1937
: The Chicago Bears obtain the rights to
Sam Francis
in a trade with the Philadelphia Eagles. The Cornhusker All-American, who was the No. 1 overall pick in the NFL draft two months earlier, says he might not even play pro football, but he would go on to spend four seasons in the league, two with the Bears. |
Husker NFL draftees
|
Hall of Fame Huskers
|
Bio
1967:
The Sugar Bowl announces a payout of
$236,000
each to Nebraska and Alabama, an amount that each school will share with its fellow conference members. In the Jan. 2 game, the Crimson Tide walloped the Huskers,
34-7
.
1972:
A month and a half after receiving the
game ball
from Nebraska's Orange Bowl win over Alabama, former Husker wide receiver
Rex Lowe
dies after a battle with Hodgkins disease.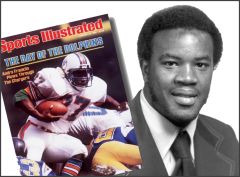 «
1977:
Andra Franklin
, a running back from Alabama who spurned an offer from the Tide's Bear Bryant, is the headliner of the Huskers'
recruiting class
. Franklin would set an NU record for career rushing yards by a fullback (1,738) and would later start in the Super Bowl, but 14 of Neb­ras­ka's
27 signees
would never earn a letter in Lincoln.
1987:
Nebraska fans digest a mostly positive batch of signing-day news: After narrowing his choices to NU and Oklahoma, quarterback
Mickey Joseph
,** a Parade and USA Today All-American, opted for
the Huskers. NU also signed Omaha Central running back
Leodis Flowers
but failed to reel in running back Emmitt Smith, who wore red and white to his signing event in Pensacola but went with the Florida Gators (
1
-
2
). |
Class of 1987
1992:
Forfeits of four games and the 1991 Big Eight championship appear possible as Nebraska completes its investigation of the
Omar Soto
** eligibility case. Shortly before the 1992 Orange Bowl, it was discovered that the fullback had taken part in a 1986 junior college scrimmage, which started the NCAA's five-years-to-play-four clock. (The Big Eight would decide against any forfeits, determining that Nebraska had no way of knowing about the scrimmage.)
2002:
Eric Crouch picks up his
Davey O'Brien Award
hardware – and hears encouraging words from Roger Staubach – at a ceremony in Fort Worth, Texas.
2007:
Doak Ostergard
is forced out as Nebraska head football trainer, a move that would alienate many fans and former players.
2012:
St. Louis-area running back
Ezekiel Elliott
schedules a Nebraska visit as he considers multiple offers.
** Article summary only