This week in Husker history
The week of April 20-26, looking back in five-year intervals
1914:
Vic Halligan
is elected captain of the 1914 Cornhusker football team. The senior tackle from North Platte would become Nebraska's first football All-American. |
Bio
1929:
With the quarterback position still
wide open
, the Huskers hold a
practice game
on a slippery field as spring drills continue.
1939:
"Harvard" nips "Yale,"
10-7
, as the Huskers' spring practices end. |
Commentary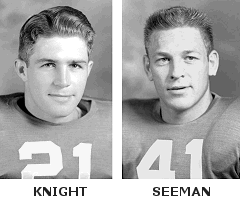 «
1944:
A pair of former Husker teammates, end George Seeman (1936, '38, '39) and quarterback George "Bus" Knight (1938, '39, '40), describe their roles in low-level World War II
bombing raids
in the Pacific Theater.
1954:
Husker football halfback Dirkes Rolston becomes a footnote in NU baseball history by walking with the bases loaded to give the Nebraska its only run in a
perfect game
pitched by Richard Geier against Kansas. It remains the only nine-inning perfect game in Husker history.
1964:
In a Saturday scrimmage, the
lower units
humble a complacent Red squad. The Daily Nebraskan speculates that linemen Dick Czap, Mike Grace and Dennis Carlson and backs Ron Kirkland, Harry Wilson and Pete Tatman could be moving up the depth chart.
1984:
Greg McQuitter
, a Husker defensive back in 1977, marries boxer Muhammad Ali's ex-wife, Khalilah Ali, in Las Vegas. The marriage would last just
a few months
.
1994:
I-back
Lawrence Phillips
sets the stage for his sophomore season by rushing for 156 yards in the Red-White game.
2004:
Coach Bill Callahan says the
starting quarterback
* won't be determined until fall camp, although Joe Dailey emerges from
spring ball
* atop the depth chart.
2009:
Three Huskers – Cody Glenn, Matt Slauson and Lydon Murtha – are taken in the
NFL draft
, all on the final day. |
McKewon commentary
* Wayback Machine link – may take several seconds to load

---