This week in Husker history
The week of April 14-20, looking back in five-year intervals
1918:
Two weeks after the U.S. entered World War I, Nebraska captain-elect
Roscoe Rhodes
is drafted into the Army. He would be killed in action six months later in France, becoming part of the inspiration behind
Memorial Stadium
.
1963:
David Bremser
, the 14-year-old son of Husker play-by-play man Lyell Bremser, dies after being hit by a pitch in a youth baseball game in Omaha.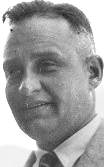 After his time at Nebraska, Schissler became head football coach at
Oregon State
and the NFL's Chicago Car­di­nals and Brook­lyn Dodgers. He is credited with founding the NFL's Pro Bowl.
«
1968:
Paul Schissler
, who served as head basketball and baseball coach and assistant football coach at Nebraska shortly after World War I, dies at age 74. Also, the Nebraska-Oklahoma game is one of only
three Big Eight games
scheduled to be televised in 1968.
1973:
Forfeits
by Oklahoma technically make Nebraska the 1972 Big Eight champion.
1998:
Grant Wistrom and Jason Peter are selected in the
first round
of the NFL draft. Scott Frost and Ahman Green go in the third round, and Aaron Taylor and Eric Warfield are chosen in the seventh. |
Husker draft history
2003:
The defenses dominate as just one touchdown is scored in the
spring game
, won by the Reds, 13-0.
2008:
A record crowd of 80,000-plus watches quarterback Joe Ganz lead the Reds to a 24-14 win in Bo Pelini's first
spring game
as head coach.
2013:
Bo Pelini confirms that quarterback/receiver
Brion Carnes
will transfer.
2018:
Sports Illustrated
takes a lengthy look at Scott Frost's rebuilding project, and the coach says past leadership failures led to the Huskers' fall.