This week in Husker history
The week of April 12-18, looking back in five-year intervals
1900:
The plug is pulled on Nebraska's
first conference
, the Western Inter-State University Foot Ball Association. Nebraska's last season in the league was 1897. |
History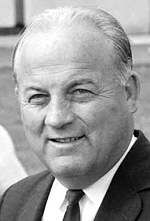 «1915: Robert S. Devaney, future Hall of Fame coach of the Cornhuskers, is born on April 13 in Saginaw, Mich.
1920:
The Missouri Valley Conference gives a
provisional OK
to Nebraska's rejoining the league, but the Cornhuskers would remain independent for one more season. Also, former Husker
Dick Rutherford
becomes the head football and basketball coach at Oregon State. |
Full story
1925:
Students who made pledges for the construction of Memorial Stadium are woefully
delinquent
on their payments.
1930:
Spring practices
come to a close
, and coach Dana X. Bible declares them a success.
1935:
In the final scrimmage of spring, the Reds beat the Whites,
7-6
, on a fourth-quarter touchdown plunge set up by Harold Brill's 39-yard run.
1950:
The university announces that WOW-TV will
televise
the Huskers' home games for a second consecutive year.
1965:
The Reds beat the Whites,
61-8
, in a Friday scrimmage before spring break. Bob Churchich connected with halfback Harry Wilson on a 60-yard scoring pass on the Reds' first play.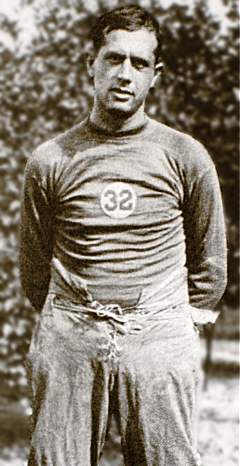 «
1980:
Verne Lewellen
, captain and quarterback of the 1923 Nebraska team that
upset
Notre Dame's
Four Horsemen
, dies at age 78. He earned all-pro honors with the Green Bay Packers and was a longtime executive with the franchise. Also, defensive back
Randee Johnson
suffers a broken neck during the Huskers' first spring scrimmage.
2000:
With the top quarterbacks
sitting out
,* the
spring game
ends in a 21-21 tie -- and features a punt by
KaLena "Beanie" Barnes
, the first woman to try out for Nebraska's football team. Also, the Seattle Seahawks trade former Husker
Ahman Green
to Green Bay, where he would become the Packers' all-time rushing leader.
2005:
After newcomer Zac Taylor passes for
357 yards
in the spring game, 2004 starting quarterback
Joe Dailey
confirms he's
leaving
the team.
* Wayback Machine link – may take several seconds to load

---