This week in Husker history
The week of July 1-7, looking back in five-year intervals: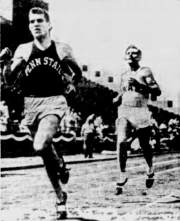 «
1947:
Records fall
** at Memorial Stadium — track and field records, that is — as the AAU
national champion­ships
take place in Lincoln. Pictured is Gerry Karver winning the 1,500 meters.
1982:
Vince Ferragamo
rejoins the Los Angeles Rams after a season with the Canadian Football League's Montreal Alouettes.
1987:
Tom Osborne helps persuade an NCAA presidents convention not to cut
football scholarships
in Division I-A from 95 to 90.
1992:
Vince Ferragamo is named to the Orange County
Hall of Fame
in California.
2002:
Linebacker
Randy Stella
, suspended and then dismissed from the team, decides to resume his college career at the University of Nebraska at Omaha.
2007:
The Nebraska Football Hall of Fame announces that
five former Huskers
will be inducted in September.
** Article summary only