This week in Husker history
The week of July 28-Aug. 3, looking back in five-year intervals
1938:
Coach Biff Jones says
inexperience
doesn't mean the Huskers' line play will be a weakness.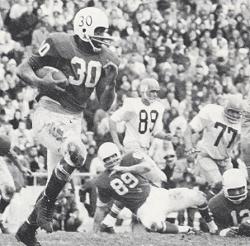 Thornton turns upfield during a 1962 game.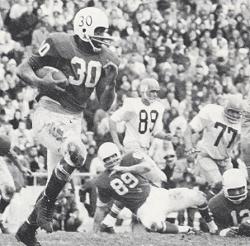 Thornton turns upfield during a 1962 game.
«
1963:
Bill "Thunder" Thornton is among the
MVP vote-getters
after he helps the college all-stars
upset
the NFL's 1962 champs, the Green Bay Packers,
20-17
.
1968:
Even after a subpar season, Bob Devaney's career
winning percentage
puts him at the top among active coaches.
1973:
Rookie
Rich Glover
makes a good early impression with the New York Giants.
1988:
Over the latest five-year span, Nebraska tops the nation in
scoring offense
and is No. 2 in scoring defense.
2008:
Bo Pelini announces the dismissal of senior defensive tackle
Kevin Dixon
. Also, Nebraska is
unranked
in the preseason coaches' poll, while five Husker opponents appear in the top 15.
2018:
Tom Osborne
says he "really didn't understand the culture" the last three seasons but expects that to change, even though it won't be "a reincarnation of 1995, 1996 or 1997."