This week in Husker history
The week of April 8-14, looking back in five-year intervals:
1927:
Coach Ernest Bearg
dials back
the intensity of spring drills to avoid injuries.
1937:
Dana X. Bible
, hired away by Texas in January, drops in on the Cornhuskers' first spring practice.
1967:
Harry Wilson
, the halfback from Steubenville, Ohio, who led the Huskers in rushing yards in 1965 and '66, signs with the Philadelphia Eagles, who selected him in the third round of the NFL draft.
1977:
After the offense
struggles mightily
in a major scrimmage, Tom Osborne remarks: "There's no use beating around the bush about it. It was lousy."
1982:
A revenue-driven change in TV plans moves the
Oklahoma game
to the day after Thanksgiving.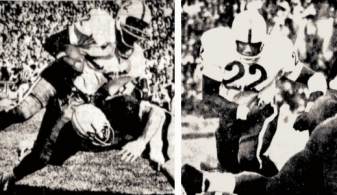 1997:
Ben Gregory
, once described by Bob Devaney as "as good a football player as Johnny Rodgers," suffers a fatal heart attack at his home in Superior, Colo., at
age 50
. The former Husker halfback (1965-67) was an assistant coach at Colorado and the father of Morgan Gregory, who earned three Nebraska letters at split end in the late 1980s.
2002:
An injury to cornerback
Willie Amos
puts a damper on the Huskers' final major scrimmage before the spring game.
2012:
Fans go home disappointed as
severe weather
forces the
cancellation
of the Huskers' spring game. Also,
Tippy Dye
, the man who
hired Bob Devaney
at
Nebraska
, dies at
age 97
.