This week in Husker history
The week of April 19-25, looking back in five-year intervals:
1925:
Spring practices are over, but
backs and ends
continue with light training three times a week.
1930:
Husker tackle
Hugh Rhea
sets a Drake Relays record in the shot put, but it is broken the next day and he finishes second.
1940:
With few losses to graduation, prospects seem bright for the
1940 Cornhuskers
, but a schedule that includes trips to Minnesota, Oklahoma and Pittsburgh appears daunting.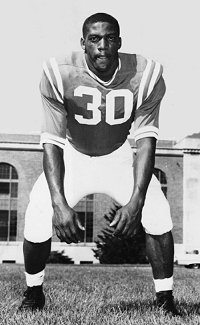 «
1960:
Sophomore fullback
Bill "Thunder" Thornton
has an impressive outing in the Huskers' first spring scrimmage. | More:
1
,
2
1970:
Flanker Johnny Rodgers and linebacker Bob Terrio move to the top of the depth chart as Bob Devaney announces
roster changes
.
1975:
Tom Osborne cancels a
midweek scrimmage
because of a shortage of available running backs.
1990:
Jeff Mills
is the first of five Huskers selected in the NFL draft.
1995:
Three starters on the offensive line -- Zach Wiegert, Brendan Stai and Rob Zatechka -- are among seven Huskers taken in the
NFL draft
.
2005:
Fabian Washington goes to the Raiders in the
first round
* of the NFL draft.
* Wayback Machine link – may take several seconds to load

---