This week in Husker history
The week of March 25-31, looking back in five-year intervals
1907:
A tiff with Big Ten schools over
eligibility rules
leaves parts of the '07 football schedule unsettled.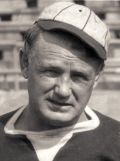 «
1922:
After his first season as head football coach at Nebraska,
Fred Dawson
is named
athletic director
. He had been serving as interim A.D. since
Fred Luehring
resigned in January to become Minnesota's athletic director. | More about Dawson:
1
,
2
1927:
The night before the Huskers' scheduled spring game, Coach Ernest Bearg
cancels
the contest because of mounting injuries and a forecast for bad weather.
1937:
Line coach
Roy "Link" Lyman
becomes a full-time assistant on the football staff.
1962:
Former Nebraska football captain
Harold "Chick" Hartley
dies at age 61 in a plunge from San Francisco's Golden Gate Bridge.
1967:
Three months after the Huskers' lopsided loss to Alabama in the Sugar Bowl, Bob Devaney ventures into
Tide country
for a pair of speaking engagements.
1982:
Clemson
is officially in hot water with the NCAA just three months after its bowl win over Nebraska for the national championship.
1987:
Former Husker tight end and graduate assistant
Brad Jenkins
is hired as head coach at Kansas Wesleyan.
1992:
Nebraska begins its search for a
new athletic director
to succeed Bob Devaney, who will leave the job in January at age 77. University chancellor Graham Spanier says the search is likely to take at least four months.
2002:
After a
snow delay
of two days, spring drills get going with an unusually large number of open spots at the top of the depth chart.
2007:
New Orleans Saints coach Sean Peyton comes away
impressed
after watching a Husker practice. Also,
injuries
strike Kenny Wilson and Zack Bowman.
2007:
Johnny Rodgers establishes the Jet Award to honor the nation's top
return specialist
.
---