This week in Husker history
The week of Dec. 21-27, looking back in five-year intervals:
1909:
After a 3-3-2 season, there's a movement to bring
John Westover
or another former player aboard as coach, but W.C. "King" Cole would ultimately
return for another season.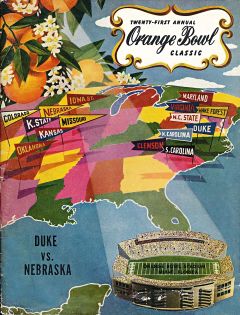 «
1954:
The Huskers, two-touchdown underdogs,
arrive in Miami
for their Orange Bowl game against Duke.
1964:
The Huskers wrap up
four days of workouts
in balmy Brownsville, Texas, and then fly to Dallas for their Cotton Bowl game against Arkansas.
1974:
The Huskers practice in
Tulane Stadium
for their game against Florida in the Sugar Bowl.
1979:
Nebraska looks to
bounce back
from its loss to Oklahoma as the team arrives in Dallas to face Houston in the Cotton Bowl.
1989:
Linebacker Mike Petko does some
growing up
after going down a path that saw him emulating Brian Bosworth.
1994:
Quarterback Tommie Frazier, sidelined since Sept. 24 by a blood clot, is cleared to
scrimmage
as Nebraska prepares for its high-stakes Orange Bowl matchup with Miami.
1999:
The Huskers practice in Scottsdale, Ariz., for their
Fiesta Bowl
* game against Tennessee.
2004:
Accusations fly between
Nebraska and Houston
* after a proposed Thursday night game to open the 2005 season falls through.
2009:
Ndamukong Suh becomes the
first defensive player
to be named AP College Football Player of the Year. Meanwhile, the Huskers arrive in
San Diego
* for their Holiday Bowl game against Arizona.
* Wayback Machine link – may take several seconds to load

---