This week month in Husker history
Google's news archive is still basically unsearchable, so we are again breaking from convention and covering all of August as we look back in five-year intervals
1914:
Summer conditioning consists of
farm work
for most of Jumbo Stiehm's Cornhuskers. |
Full story
1929:
How did Nebraska football end up in the August issue of
Popular Mechanics
? It was because of assistant coach B.F. Oakes and his "Biff'em machine," a predecessor of the blocking sled.
1934:
Coach Dana X. Bible faces a rebuilding project as his Huskers seek a fourth consecutive
Big Six title
.
1949:
It's the dawn of the era of commercial television in eastern Nebraska, and the Memorial Stadium press box is readied for the Huskers'
home football games
to be broadcast by Omaha station WOW-TV. (The station would also televise the Huskers' 1950 home games, but the practice would be
halted
in 1951.)
1959:
Rookie
Tom Osborne
tries to stick with the NFL's 49ers.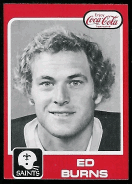 «
1979:
Former Nebraska backup quarterback
Ed Burns
enjoys some preseason success with the New Orleans Saints.
1984:
The Huskers have some
big shoes to fill
on offense, but Tom Osborne says he is not concerned.
1989:
Tom Osborne expresses surprise at the Huskers'
No. 3
preseason ranking.
2004:
Change
is in the air as Bill Callahan's first Husker team prepares for its opener.
2009:
Junior I-back Quentin Castille, the Huskers' leading rusher in the Gator Bowl win over Clemson, is
dismissed
from the team.
* Wayback Machine link – may take several seconds to load

---