This week in Husker history
The week of Jan. 20-26, looking back in five-year intervals
1903:
Missouri and Nebraska hit a
scheduling impasse
that would lead to an eight-year break in their football series. The teams had played each other every year from 1893 to 1902 but wouldn't meet again until 1911.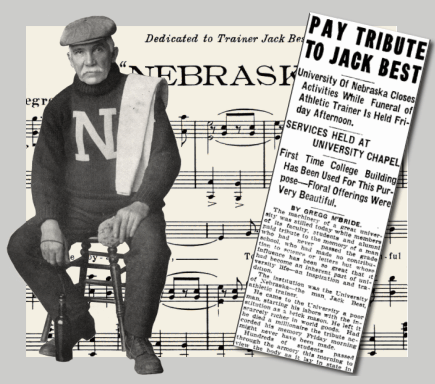 1923:
Athletic trainer Jack Best, a fixture at Nebraska since before the dawn of NU football and one of the most beloved characters on campus, dies at age 77. The Englishman had been the subject of tributes for years, and they include this
1913 journal page
, this
1917 song
and this
1919 book segment
. His passing on Jan. 23, 1923, came less than two months after his locker room speech moved players to tears before the
1922 Notre Dame game
.
1928:
Nebraska pursues (successfully, it turns out) a game with
Army
after the military academy's series with Navy goes on haitus in a disagreement over eligibility standards.
1958:
Newly hired Husker assistant
Leroy Pearce
is said to be a top candidate for the head coaching vacancy at Iowa State. (Clay Stapleton would get the job, and Pearce would stay at Nebraska through 1961.)
1993:
Bob Devaney confides to the Kansas City paper about the
unsatisfying end
to his tenure as athletic director. Meanwhile, Tom Osborne searches in Florida for more
Manatee County talent
.
2013:
Former Husker quarterback
Scott Frost
moves up to offensive coordinator at
Oregon
as Mark Helfrich becomes head coach.
2018:
There's a substantial
Florida flavor
to the recruiting class being assembled by new head coach Scott Frost.