This week in Husker history
The week of March 17-23, looking back in five-year intervals
1943:
Thirty-eight players report for
spring drills
during wartime.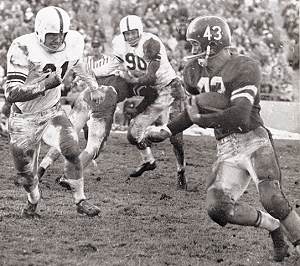 «
1973:
UConn selects
Larry Naviaux
, a halfback for the Huskers from 1956 through 1958, as head coach. Photo shows him carrying the ball in a 1957 game.
1988:
A bill that would make NU football players
paid state employees
wins first-round approval in the Nebraska Legislature.
1993:
Former Husker safety
Tyrone Byrd
suffers a broken back in a New Mexico auto accident.
2003:
Position changes
for three defensive players are announced ahead of the start of spring drills.
2008:
Bo Pelini indicates seniority won't count for much as players get evaluated in upcoming
spring drills
.
2013:
The East Stadium expansion makes the
sellout streak
less of a sure thing.