This week in Husker history
The week of Jan. 17-23, looking back in five-year intervals:
1901:
The 1900 team is honored at a
banquet
at the Lincoln Hotel.
1921:
Former Nebraska coach
Doc Stewart
becomes coach and athletic director at Clemson.
1926:
Former Cornhusker
Max Towle
enters the race for the office Lancaster County attorney. (He would win the election and rise to fame for his role in
investigating
a gangland-related
bank robbery
in Lincoln in 1930.)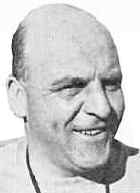 «
1931:
Line coach
Bernard "Bunny" Oakes
leaves the Nebraska staff to become head coach at Montana. He would later coach at Colorado and Wyoming.
1941:
An imminent return to
military duty
emerges as a possibility for Nebraska coach Biff Jones.
1946:
Season tickets
for the Huskers' four home games go on sale for $10, or $2.75 for single games.
1971:
Nearly 2,000 fans attend the football
awards banquet
as the 1970 national championship team is honored at Pershing Auditorium.
1976:
Husker split end
Chuck Malito
is elected captain of the track team.
1996:
An Arizona Republic
editorial cartoon
is the latest to take a swipe at Nebraska's off-the-field issues.
2001:
Defensive lineman
Jon Clanton
sets records in pre-winter conditioning testing.
* Wayback Machine link – may take several seconds to load

---