This week in Husker history
The week of Aug. 11-17, looking back in five-year intervals
1908:
Coach W.C. Cole's Cornhuskers get set for a season to be played at Lincoln's
Antelope Park
.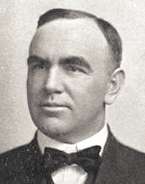 «
1918:
William G. Kline
, the coach at Nebraska Wesleyan for seven seasons, is tapped as the Cornhuskers' head coach after the departure of E.J. Stewart to the armed forces. | Bios:
Huskers.com
,
Wikipedia
1958:
Nebraska is seen as likely to
improve
on its 1-9 record of 1957.
1963:
A preseason media poll pegs
Oklahoma
as a heavy favorite to win the Big Eight, with Nebraska at No. 2.
1993:
Big Eight football reporters pick the Huskers to
repeat
as conference champs. Also, Johnny Rodgers
returns to school
to finish his degree.
1998:
Dave Rimington
is enshrined in the College Football Hall of Fame.
2003:
For the first time since 1969, the Huskers are
unranked
in both major preseason polls. Also, former Husker football radio broadcaster
Dee Dirks
dies at age 101.
2008:
Wide receiver
Khiry Cooper
, a fifth-round pick in the Major League Baseball draft, opts to play football and baseball at Nebraska as he declines to sign with the Angels.
2018:
ESPN.com looks at Scott Frost's
life in a fishbowl
at Nebraska. Also, Frost says the starting job
at quarterback
will go to either redshirt freshman Tristan Gebbia or true freshman Adrian Martinez.