This week in Husker history
The week of May 4-10, looking back in five-year intervals:
1909:
A loophole appears to allow Husker tackle William Chaloupka, team captain in 1908, an
extra season
of eligibility, but it wasn't to be. Also, the Athletic Board elections are spiced up by opposition to athletic director
Raymond G. Clapp's
purported de-emphasis of football and baseball.
1959:
After a scoreless first half, the Varsity scores three touchdowns in the final 30 minutes for a
22-0 win
over the Alumni.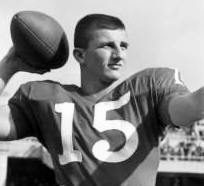 «
1964:
Soph­omore-to-be quarterback Bob Churchich leads the Whites to a
24-15 win
in the spring game, a night contest at Seacrest Field.
1969:
Bill Bomberger's field goal with 19 seconds remaining lifts the Whites to a
10-8 win
in the spring game.
1974:
Three fourth-quarter touchdowns give the Reds a
41-40 win
in the spring game.
1979:
Transfer I-back Jarvis Redwine rushes for 94 yards as the Reds register a
27-13 win
in the spring game.
1989:
Defensive back Charles Fryar feels he has been
snubbed
in the NFL draft.
2004:
Trev Alberts cautions Husker fans to be ready for
ups and downs
with the new coaching staff.
2009:
Sam Keller sues
EA Sports and the NCAA over the use of players' likenesses in
electronic games
.