This week in Husker history
The week of May 29-June 4, looking back in five-year intervals
1896:
Butte has an
easy time
against an Omaha-based all-star team consisting mainly of former University of Nebraska players. |
Full story
1916:
Graduation day
provides an opportunity to reflect on the careers of Guy Chamberlin and Dick Rutherford.
1941:
Graduation and the military are expected to cause
heavy attrition
for the Huskers.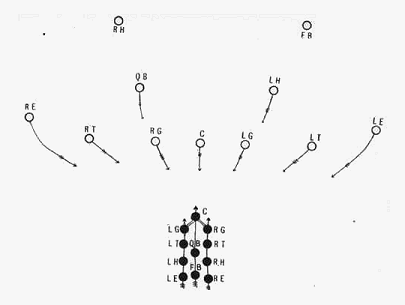 1951:
Alonzo Yont, a back for Nebraska in the early 1890s, reflects on more than half a century of
change
in the game – forward passes, freer substituting, more padding – and isn't so sure it's an improvement. Diagramed above is the sort of wedge play that was prevalent during Yont's time.
1966:
Nebraska-bound defensive back Randy Reeves of Omaha Benson is named state prep athlete of the year:
1
,
2
1971:
Six Husker football players and one basketball player are commissioned as
Lincoln police officers
for the summer.
1996:
Tommie Frazier is named Big Eight Male
Athlete of the Year
as the conference approaches its sunset.
2001:
Warren Alfson, All-America guard on the Huskers' 1941 Rose Bowl team, dies at
age 86
. Alfson is believed to be the first player to
redshirt
at Nebraska and perhaps the first in all of
college football
.
2016:
The university's
payments
to Bo Pelini's former assistants at Nebraska are expected to exceed $1.9 million.