This week in Husker history
The week of Feb. 17-23, looking back in five-year intervals
1908:
Nebraska proposes a
Thanksgiving game
against Iowa State in Lincoln. (Wabash would turn out to be the Huskers' Turkey Day opponent, while ISU and Nebraska would play in Omaha earlier in November.)
1938:
An experienced backfield and a relatively green line
flip the script
for coach Biff Jones as he prepares for spring drills in his second season in Lincoln.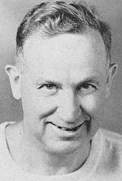 «
1948:
George "Potsy" Clark
becomes head coach for a second time at Nebraska, having also led the Huskers in 1945. He replaces
Bernie Masterson
, who resigned earlier in the month after two seasons.
1963:
Lack of depth
is coach Bob Devaney's chief concern as he looks ahead to his second season at Nebraska.
1973:
Tom Osborne has a
tough act
to follow as he prepares for his first season as head coach.
1983:
Former Husker player and assistant
Monte Kiffin
moves into the pro coaching ranks as he accepts a job as linebackers coach for the Green Bay Packers.
2008:
New head coach Bo Pelini and his staff
meet the public in
Grand Island
.
2018:
Thinking fast is part of the regimen on the
offensive line
under new position coach Greg Austin.