Nebraska 14
Notre Dame 7
Nov. 10,
1923

Notre Dame ...... 0   0   0   7  -   7
Nebraska ........ 0   7   0   7  -  14

Second quarter
NU: Dave Noble 24 run (Herb Dewitz kick)
Fourth quarter
NU: Noble 20 pass from Rufus Dewitz 
   (R. Dewitz kick)
ND: Bill Cerney 23 pass from Harry
    Stuhldreher (Stuhldreher kick)

                           ND       NU
First downs .............. 12       10
Rushing yards (net) ...... 48      208
Passing yards (net) ..... 190       20
  Comp-Att-Int ...... 15-37-4    1-9-3
Total offense ........... 238      228
Punts ............... 12-37.5   7-46.3
Punt return yds .......... 76       10
Fumbles-Lost ............ 3-1      5-2
Yards penalized .......... 20       62
UPSET OF THE YEAR: Nebraska, winners of just one of its first four games, rose up and defeated mighty Notre Dame in Lincoln, dealing the visiting Irish and their "Four Horsemen" backfield their only defeat for the second consecutive season.
During a punt-filled first quarter, the closest either team came to scoring was when Nebraska missed a field goal from the Notre Dame 32-yard line. But opportunity knocked on the period's final play – a shanked punt that gave the Cornhuskers the ball on the Irish 33. After three plays, NU faced fourth and one. It was no surprise that halfback Dave Noble – known as "Big Moose" – got the ball, but he crossed up the Irish by feinting to the center of the line and then circling the Notre Dame left end for a twisting, 24-yard touchdown run.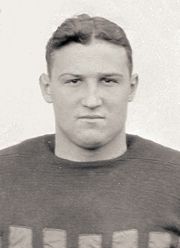 NOBLE
On its ensuing possession, Notre Dame drove 64 yards to a first and goal at the Nebraska 8, but the Irish could get no closer and turned the ball over on downs. Another Irish drive inside the Nebraska 25 late in the half also came up empty.
In the third quarter, Nebraska missed a golden opportunity when John "Choppy" Rhodes returned a fumble more than 60 yards, only to fumble the ball into the end zone when he was tackled from behind. Early in the fourth quarter, however, the Cornhuskers boosted their lead to 14-0 with a 20-yard pass from Rufus Dewitz to Noble to cap a drive that started at the Irish 42. "Big Moose" carried a would-be tackler on his back into the end zone.
Notre Dame entered the game as arguably the nation's best team, but the Irish rushing attack was stymied by the Cornhuskers, aided by Nebraska's rising star at tackle, sophomore Ed Weir. Notre Dame resorted to passing game, and the visitors' lone score didn't occur until the game's final seconds. The gun sounded after the ensuing kickoff, and the season's biggest upset was in the books.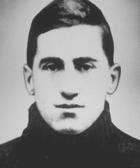 ECKERSALL
ECKERSALL'S ANALYSIS
: The game's referee, Walter Eckersall, was an official who doubled as a Chicago Tribune sportswriter, and he provided several paragraphs of
postgame analysis
. He called the Nebraska victory "decisive" and said the Cornhuskers "outplayed Notre Dame in practically every department." On defense, NU's tackles "aided the ends considerably in stopping the attempted end plays of Miller and Crowley, the Notre Dame half backs. The guards also played wide and appeared to know the delayed line plunging stuff of Layden and the other backs. When Notre Dame opened up its forward passing attack, the passer was rushed considerably while Nebraska generally managed to cover the eligible players in convincing manner."
FROM THE LOCAL PAPERS: The Lincoln Star's Cy Sherman wrote: "The glories of the days of Chamberlain, Rutherford, Westover, Bender, Shonka, Frank and Flippin, Husker heroes of former years, were born anew as Coach Dawson's well rounded gridiron machine, at last coming into its own, overpowered and shattered the Hibernian peril." … The Omaha World-Herald also described it with flair: "The moleskin warriors from the wheat plain of Nebraska went wild with fight and played the game with the savage attack that had been smoldering in their hearts for many weeks." … The OWH praised the booming punts of Verne Lewellen and dubbed him "Long Distance Lew."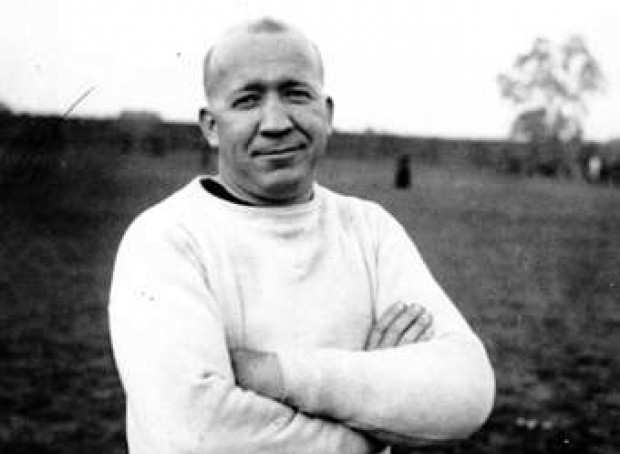 ROCKNE
KNUTE'S ANTIC
: From the Francis Wallace book
Knute Rockne
: "The trip had begun badly. Shortly after we arrived Rockne showed me a banner headline on the sports page of the Lincoln Star: THE HORRIBLE HIBERNIANS ARRIVE TODAY. It was, we knew, our friend Cy Sherman, the volatile sports editor, merely being alliterative; but Rock, no Hibernian himself, thought it in bad taste. Later, at what was supposed to be secret practice, numbers of Nebraska freshmen in green caps sat in the bleachers and jeered the great Rockne and his Horrible Hibernians. Other faces peered from windows of buildings which surrounded the field. Rock, burning at all this, said, 'They want to see something – we'll show 'em something.' So, on the spot, he put in a triple reverse, probably the one his Tricky Tiger team had used in grade-school days. And the boys worked it."
COVERAGE: Associated Press | Huskers.com | Lincoln Star: 1, 2 | United Press | Omaha World-Herald: 1, 2 | Ft. Wayne Journal-Gazette: 1, 2 | Daily Nebraskan | Notre Dame Daily | Stadium photos | Series history


                  LINEUPS
Notre Dame          Pos.             Nebraska
Chuck Collins ...... LE ......... John Rhodes
Joe Bach ........... LT ............. Ed Weir
Harvey Brown (c) ... LG ........ Jay Berquist
Adam Walsh .........  C .... Harold Hutchison
Noble Kizer ........ RG ...... Ross McGlasson
Gene Oberst ........ RT ....... Henry Bassett
Tim Murphy ......... RE ....... Rob Robertson
Harry Stuhldreher .. QB .. Verne Lewellen (c)
Dutch Bergman ...... LH ......... Herb Dewitz
Don Miller ......... RH .......... Dave Noble
Elmer Layden ....... FB ........ Rufus Dewitz

                SUBSTITUTIONS 
  Notre Dame: Gene Mayl for Murphy, Jim Crowley
for Bergman, Clem Crowe for Collins, Rip Miller
for Oberst, John Weibel for Brown, George 
Vergara for Kizer, John Noppenberger for Bach, 
Red Maher for D. Miller, Ed Hunsinger for Mayl,
John McMullan for Noppenberger, Bill Cerney for
Layden, Bergman for Crowley, Max Houser for 
Bergman, John Wallace for McMullan. 
  Nebraska: Roland Locke for Noble, Emil Hen-
drickson for Weir, Ladimer Hubka for McGlasson, 
Cecil Hartman for R. Dewitz, Joe Westoupel for 
Hutchison, Eugene McAllister for Robertson, 
Melvin Collins for Rhodes, Elbert Bloodgood for
H. Dewitz.

                  OFFICIALS 
  Walter Eckersall, University of Chicago, ref-
eree, H.G. Hedges, Dartmouth university, umpire;
B.L. McCreary, University of Oklahoma, field 
judge; J.J. Wyatt, University of Missouri, head-
linesman.

                    NOTE 
  Game stats and distances of scoring plays vary 
from source to source due to the era's lack of 
standardization. The account you see here relies
most heavily on the Lincoln Star's game coverage 
(Cy Sherman story, stats and play-by-play), which
itself contains internal inconsistencies. According
to some newspaper accounts at the time, it was Red
Maher, not Bill Cerney, who scored the Irish's TD. 
Some modern accounts of the game have the order of
Noble's touchdowns reversed, but it is clear from
the Star's play-by-play that the rushing TD came first.


---