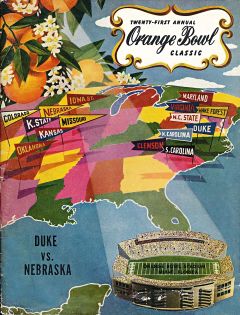 Official recap

If Nebraska's first bowl bid was a memorable one, its second was one to forget. The 1954 Cornhuskers finished second behind Oklahoma in the Big Seven race and went to Miami under the no-repeat rule.

Making their first bowl appearance in 14 years, Bill Glassford's Cornhuskers trailed Duke's Blue Devils at the half, 14-0, but pulled within 14-7 early in the third quarter after a minus 2-yard Duke punt. Halfback Don Comstock scored from the three to cap a 35-yard drive.

After that, it was all Duke. Coach Bill Murray's Blue Devils rolled 65 yards to score on their next possession and added two more tallies in the fourth quarter to ice the game, 34-7.

Duke 34
Nebraska 7
Jan. 1,
1955
Miami, FL
Duke        0   14    6   14   -  34
Nebraska    0    0    7    0   -   7

Scoring Summary 
Second Quarter
DU - Bob Pascal 7 run (Jim Nelson kick)
DU - Jerry Kocourek 5 pass from Jerry 
     Barger (Nelson kick)
Third Quarter
NU - Don Comstock 3 run (Bob Smith kick)
DU - Sonny Sorrell 5 pass from Barger 
    (kick failed)
Fourth Quarter
DU - Nick McKeithan 1 run (Nelson kick)
DU - Sam Eberdt 3 run (Nelson kick)

                       NU       DU
First Downs             6       23
  By rushing            5       19
  By passing            1        3
  By penalty            0        1
Rushes-Net Yards    34-84   64-288
Passing, Net           26       82
  Comp-Att-Int      1-9-2   7-13-0
Total Offense      43-110   77-370
Punts-Avg.         7-28.9   5-23.6
Fumbles-lost          0-0      2-1
Penalties-yds        2-20     2-30

Attendance: 68,750

RUSHING
DUKE: Pascal 9-91, McKeithan 8-48, 
 Aldridge 11-46, Bass 7-21, Eberdt 5-20,
 Lutz 4-15, Barger 5-13, Jurgensen 3-9, 
 Beasley 1-9, Conner 2-7, Post 2-5,
 Murray 2-4, Blaney 5-0
NEBR: Smith 5-22, Comstock 3-20, Clark
 7-16, Edwards 4-18, Korinek 7-15, 
 Johnson 3-8, Greenlaw 2-2, Brown 2-(-7),
 Erway 1-(-11)



PASSING
DUKE         Att. Cmp. Yds. Int. TD
Barger         9    7   82    0   2
Bass           2    0    0    0   0
Pascal         1    0    0    0   0
Jurgensen      1    0    0    0   0

NEBR         Att. Cmp. Yds. Int. TD
Greenlaw       2    1   26    0   0
Brown          3    0    0    0   0
Clark          1    0    0    0   0
Johnson        1    0    0    0   0
Erway          1    0    0    1   0
Comstock       1    0    0    1   0

RECEIVING
DUKE          No. Yds. TD
Sorrell        3   53   1
Blaney         1   12   0
Aldridge       1   10   0
Bass           1    5   0
Kocourek       1    2   1

NEBR          No. Yds. TD
Korinek        1   26   0

INTERCEPTIONS
DUKE          No. Yds. TD
Aldridge       1   12   0
MeKeithan      1   25   0






LINEUPS
DUKE
LE - Sorrell, Benson, Sebastian
LT - Campbell, Deloatch, Hord
LG - Birchfield, Nelson, Fesperman
C  - Palmer, Falls, Snowberger, Murray
RG - Torrance, Klinger
RT - Knotts, Cox, Konicek
RE - Moon, Kocourek, Black, Stallings
QB - Barger, Jurgensen, Murray
LH - Pascal, McKeithan, Post, Beasley,
     Kredick
RH - Bass, Blaney, B. Connor
FB - Aldridge, Eberdt, Lutz

NEBR
LE - Loehr, Butherus, Westervelt
LT - Holloran, Petersen, Neal
LG - Bryant, Murphy, Taylor
C  - Oberlin, Torczon, Berguin
RG - Wagner, Kripal
RT - Glantz, Evans, Fleming
RE - McWilliams, Hewitt, Harris, Giles
QB - Brown, Erway, Fischer
LH - Comstock Clark, Johnson
RH - Greenlaw, Korinek
FB - R. Smith, Edwards