Official recap
Tom Osborne's Cornhuskers broke open a tight contest in the third quarter with a pair of game-breaker plays to chalk up a 19-3 win over Texas in the 1974 Cotton Bowl game.
The chilled New Year's Day crowd saw the Big Eight's runner-up and the Southwest Conference champions battle to a 3-3 tie at halftime, thanks to a brilliant Longhorn goal-line stand just before the gun.
But the Huskers weren't to be denied, and midway through the third quarter, safety Bob Thornton returned a Texas field goal try 41 yards to set up the clinching touchdown. Ritch Bahe got the final 12 yards on a reverse to make it 10-3. Four plays later, John Bell recovered a Texas fumble at the Longhorn 19, and three plays after that, Tony Davis ripped in from the three to make it 16-3. Sanger kicked a 43-yard field goal with 8:09 left to complete the scoring.
Texas had scored first on a 22-yard field goal by Bill Schott after a Husker fumble. Early in the second quarter, defensive end Steve Manstedt picked up a Roosevelt Leaks fumble in midair and raced 65 yards to the eight. But a stiff Longhorn defense held NU to a 24-yard field goal by Sanger.
FULL RECAP
OWH STORY & PDF
LINCOLN JOURNAL STAR
DALLAS MORNING NEWS
ASSOCIATED PRESS
OSBORNE VICTORY RIDE
THE BIRTH OF HERBIE HUSKER
TEXAS RECAP
COTTON BOWL RECAP
 
SERIES HISTORY
NU BOWLS
NU ROSTER

Nebraska 19
Texas 3
Jan. 1,
1974
Dallas, TX
Texas       3    0    0    0  -   3
Nebraska    0    3   13    3  -  19

First Quarter
UT - FG Billy Schott 22, 9:30.
 (Drive: 8 plays, 29 yards)
Second Quarter
NU - FG Rich Sanger 24, 9:05.
 (Drive: 4 plays, 1 yard)
Third Quarter
NU - Ritch Bahe 12 run (Sanger kick), 3:05.
 (Drive: 8 plays, 59 yards)
NU - Tony Davis 3 run (Kick blocked), 1:23. 
 (Drive: 3 plays, 19 yards)
Fourth Quarter
NU - FG Sanger 43, 8:02.
 (Drive: 13 plays, 63 yards)

                           NU     UT
First Downs Rushing ...... 14      6
First Downs Passing ....... 5      4
First Downs by Penalties .. 2      1
TOTAL FIRST DOWNS ........ 21     11
Rushing Attempts ......... 58     37
Yards Gained Rushing .... 260    132
Yards Lost Rushing  ...... 20     26
NET YARDS RUSHING ....... 240    106
Passes, Attempted ........ 17     17
Passes, Completed ......... 7      7
Passes had Intercepted .... 2      2
NET YARDS PASSING ........ 91     90
Total Offense Plays ...... 75     54
TOTAL OFFENSE YARDS ..... 331    196
Punts, Number ............. 3      4
Punts, Yards ............ 120    159

Attendance: 68,500.
Weather: Partly cloudy, 30 degrees

OUTSTANDING PLAYERS:
Tony Davis, Nebraska; Wade Johnston, Texas
NEBRASKA

RUSHING          Att.  Yds   TD
Tony Davis        28   106    1
Dave Humm          6    29    0
Ralph Powell       6    27    0
Ritch Bahe         7    26    1
Maury Damkroger    5    19    0
Steve Runty        1    16    0
John O'Leary       1     7    0
Jeff Moran         1     2    0
Earl Everett       2     3    0
Don Westbrook      1     5    0

PASSING      Cmp Att Int Yds TD
Dave Humm      5  13   2  75  0
Steve Runty    2   4   0  16  0

RECEIVING         No.  Yds   TD
Ritch Bahe         2    35    0
Frosty Anderson    1    20    0
Maury Damkroger    1    16    0
Brent Longwell     1    12    0
Tony Davis         2     8    0

PUNTING       No.   Yds    Avg.
Rich Sanger    3    120    40.0

RETURNS      Punt   Int      KO
B. Thornton  1-41   1-0        
Borg         1-7               
Manstedt            1-65*      
Johnson             1-0        
O'Leary                    1-21
* fumble return

TACKLES              AT  UT  TT
Schneider             2   0   2
B. Thornton           2   1   3
Borg                  3   1   4
Heydorff              3   1   4
Talley                1   0   0
Fischer               0   1   0
Powell                0   1   0
Sanger                0   1   0
Ruud                  4   1   5
Starkebaum            5   2   7
Schmidt               0   1   0
Nelson                6   3   9
Alward                0   1   0
W. Thornton           1   0   0
Bell                  5   2   7
Pate                  1   1   2
Mills                 1   1   2
Manstedt              2   3   5
Wieser                1   0   1
Martin                2   0   0
Dutton                3   1   4
Pruitt                3   0   3
Redding               2   1   3


TEXAS

RUSHING           Att.  Yds  TD
Roosevelt Leaks    13    48   0
Marty Akins        15    44   0
Lonnie Bennett      2    12   0
Joseph Aboussie     3     8   0
Raymond Clayborn    2     5   0
Mike Presley        2   -11   0





PASSING      Cmp Att Int Yds TD
Mike Presley   7  13   1  90  0
Marty Akins    0   4   1   0  0

RECEIVING         No.  Yds   TD
Parker Alford      3    32    0
Jim Moore          1    20    0
Pat Kelly          1    20    0
Raymond Clayborn   2    18    0


PUNTING       No.   Yds    Avg.
Mike Dean      4    159    39.8

RETURNS      Punt   Int      KO
Moore        1-21              
Bizzell            1-16        
Gaspard            1-11        
Clayborn                   4-72
Padgett                    1-24


TACKLES              AT  UT  TT
Bizzell               4   5   9
Sarchet               1   0   0
Hamilton              9   0   9
Melancon              2   2   4
Clayborn              1   0   0
Yeoman                9   7  16
Bennettt              0   1   0
Johnston             11   6  17
Gaspard              10   5  15
Arnold                8   2  10
Minnick               7   1   8
Crosslin              0   1   0
Dahlberg              3   1   4
Simmons               0   1   0
Reese                 3   3   6
English               2   1   3
Thruman               6   0   6
Boecker               2   0   2
Rutherford            4   1   5
Johnson               2   1   3
Milan                 2   0   0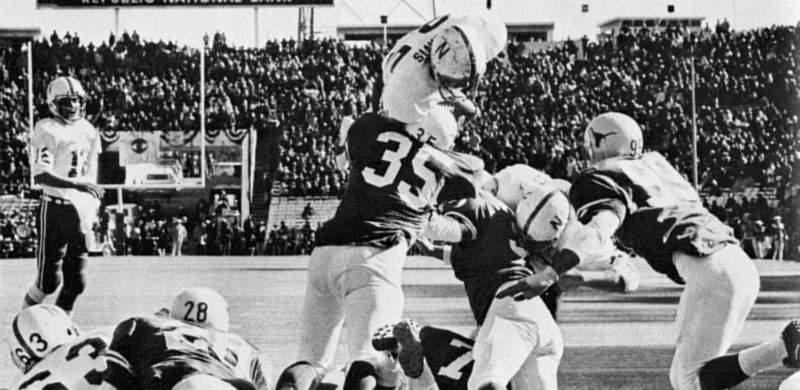 Tony Davis is stopped at the goal line near the end of the first half