Aug. 27, 2011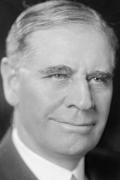 He might be the most famous former Nebraska football player
you've never heard of
When he died on this day 75 years ago, it was front-page news across the country. That's because the former Nebraska football captain from Dodge County was the nation's current secretary of war.
He also had served two terms as Utah's governor. Before that, he had been a state senator and enjoyed an influential career in the mining industry.
Nebraska fans love their post-football success stories. But this one somehow seems to have all but vanished from Husker lore.
Who is this Nebraska lineman turned presidential Cabinet member? When did he play? And how odd is it that most of us know so little about him – even though we need no introduction to a couple of his direct descendants?
Click the button below and you'll see his name and the sad news of Aug. 27, 1936. To learn more about him – and those celebrity grandkids – read on.