Spring game history

Results
2019: Red 24, White 13
2018: Red 49, White 9
2017: Red 55, White 7
2016: White 46, Red 41
2015: Red 24, White 15
2014: Red 55, White 46
2013: Red 32, White 25
2012: Canceled (weather)
2011: Red 32, White 29
2010: Red 21, White 16
2009: Red 31, White 17
2008: Red 24, White 14
2007: Red 38, White 0
2006: Red 35, White 7
2005: White 42, Red 14
2004: Red 35, White 6
2003: Red 13, White 0
2002: Red 17, White 7
2001: Red 16, White 7
2000: Red 21, White 21
1999: Red 27, White 12
1998: White 24, Red 21
1997: Red 34, White 28
1996: Red 20, White 17
1995: White 40, Red 34
1994: Red 43, White 19
1993: Red 29, White 8
1992: Red 33, White 21
1991: Red 43, White 21
1990: Red 44, White 34
1989: White 40, Red 28
1988: Red 37, White 14
1987: Red 33, White 28
1986: Red 70, White 14
1985: Red 26, White 21
1984: Red 35, White 13
1983: Red 37, White 14
1982: Red 24, White 9
1981: White 22, Red 21
1980: Red 38, White 19
1979: Red 27, White 13
1978: White 14, Red 13
1977: Red 23, White 21
1976: White 29, Red 26
1975: White 20, Red 6
1974: Red 41, White 40
1973: Red 35, White 25
1972: White 21, Red 19
1971: Red 64, White 21
1970: Red 23, White 3
1969: White 10, Red 8
1968: White 26, Red 24
1967: Red 16, White 14
1966: White 28, Red 10
1965: Red 33, White 27
1964: White 24, Red 15
1963: Red 21, White 15
1962: Red 33, White 21
1961: Varsity 35, Alumni 20
1960: Varsity 14, Alumni 0
1959: Varsity 22, Alumni 0
1958: Varsity 14, Alumni 6
1957: Varsity 22, Alumni 20
1956: Alumni 14, Varsity 0
1955: Red 14, White 7
1954: White 25, Red 14
1953: Varsity 16, Alumni 13
1952: Varsity 7, Alumni 6
1951: Varsity 27, Alumni 25
1950: Varsity 13, Alumni 13
RECORDS
TEAM
• Most first downs — 33, Reds 1973
• Most first downs, both teams — 53, Reds 33, Whites 20, 1973
• Most passes attempted — 51, Reds, 2017
• Most passes attempted, both teams — 95; Reds 51, Whites, 44, 2017
• Most passes completed — 33, Reds, 2017
• Best completion percentage — .800, Reds (8-10), 1963
• Most yards passing — 379, Reds, 2017
• Most yards passing, both teams — 693, Reds 379, Whites 314, 2017
• Most yards rushing — 407, Reds, 1987
• Most fumbles — 11, Whites, 1955
• Most fumbles, both teams — 18, Reds 7, Whites 11, 1955
• Most points — 70, Reds, 1986
• Most points, both teams — 85, Reds 64, Whites 21, 1971
• Fewest points, both teams — 13, Reds 13, Whites 0, 2003; Varsity 7, Alumni 6, 1952
INDIVIDUAL
• Most TD passes — 4, Joe Dailey, Red, 2004
• Most TD pass receptions — 3, Riley Washington, White, 1995
• Longest TD run from scrimmage — 91, Bobby Newcombe, White, 1998
• Longest punt return for TD — 91 yards, Joe Blahak, Red, 1971
• Longest kickoff return for TD — 100 yards, Bill Thornton, Varsity, 1961; Mike Demps, Red, 1999; Titus Brothers, White, 2006
• Longest TD pass — 87 yards, Wayne Weber to Tom Smith, Red, 1964
• Longest interception return for TD — 91 yards, Wonder Monds, White, 1973
• Longest fumble return for TD — 94 yards, Greg McGraw, Red, 1999
• Most points — 18, Tony Davis, Red, 1973; Steve Taylor, Red, 1986; Terry Rodgers, White, 1987; Riley Washington, White, 1995
• Most PATs — 7, Dale Klein, Red, 1986; Drew Brown, Red, 2017
• Most yards passing — 357, Zac Taylor, White, 2005
• Best completion percentage — 1.000, Dennis Claridge, Red (7-7), 1963
• Most pass receptions — 8, Dave Shamblin, White, 1973
• Most yards receiving — 184, Reggie Baul, Red, 1995
• Most yards rushing — 207, Keith Jones, Red, 1987
SERIES HISTORY
• Red leads series 43-15-1
• Varsity leads series 8-1-1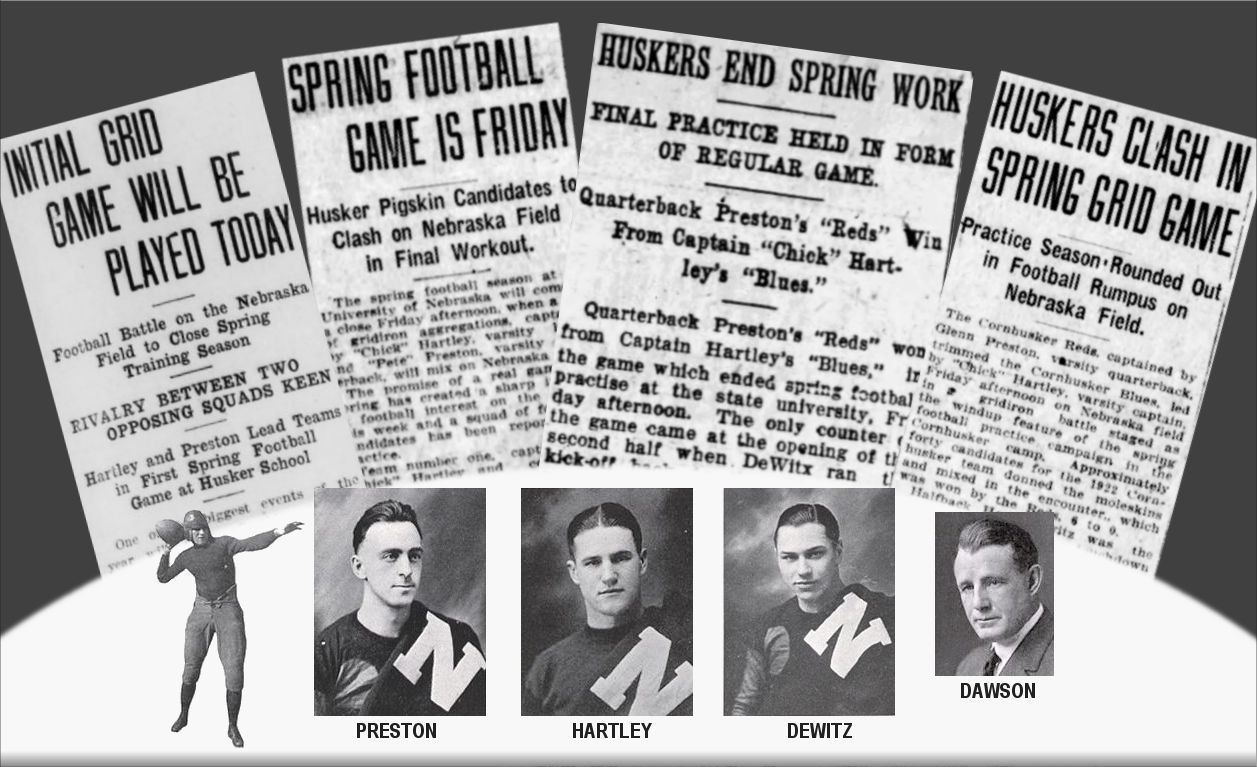 • NOTE:
University record-keeping of spring games began in 1950 with the advent of the Varsity-Alumni series and All-Sports Day. But spring games have been around
a lot longer
than that. As far back as
1922
, there were intra-squad games that fans could attend at or near the end of spring drills. A rundown by decade:
1920s
|
1930s
|
1940s
.