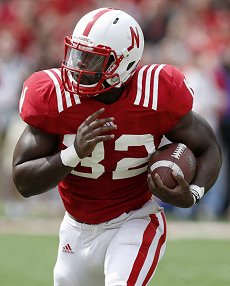 Courtesy of Huskers.com
COVERAGE
Stats & recap
Offense prevails:
I-back Imani Cross rushed for 100 yards on just six carries as the Red team won the annual Red-White spring game, 55-46.
The Red team was all offensive players and the White team was all defense. A modified scoring system awarded points for both offensive and defensive plays.
Quarterbacks Johnny Stanton and Ryker Fyfe continued their battle for the No. 2 spot behind Tommy Armstrong as the duo combined to go 17-of-24 for 224 yards and three TDs.
Huskers.com recap
|
Quotes
Omaha World-Herald
LJS & GII
Lincoln Journal-Star*
Grand Island Independent
More sources
Daily Nebraskan
HuskerOnline
Big Red Report
Hail Varsity
Associated Press
Photos/Audio/Video
Pregame links & info
COMMENTARY
Shatel
"

Does the fun Bo encourage more playmaking and fewer mistakes? I say it can't hurt."

Tom Shatel*
Omaha World-Herald
Muessel
"

Gerry has a nose for the ball and plays like a wild animal."

Grant Muessel
Hail Varsity
Callahan
"

Football played second fiddle to some of the fun going on between the plays."

Sean Callahan
HuskerOnline
Sherman
"

As suspected, this stable of I-backs might rate as Nebraska's best in many years."

Mitch Sherman
ESPN.com
Sipple
"

You saw quality entertainment and quality football, for the most part."

Steve Sipple*
Lincoln Journal-Star
Hamar
"

Kudos to Pelini and the athletic department for doing some things to jazz this one up."

Bob Hamar
Grand Island Independent
Feit
"

The highlight of the day happened before the game started."

Dave Feit
HuskerMax
York
"

Imani Cross lives in All-American Ameer Abdullah's shadow most of the time, but that was not the case Saturday."

Randy York, Huskers.com
Husker Mike
"

[The cat stunt] may not soothe old, still festering wounds, but it does eliminate old, tired talking points."

Husker Mike
Corn Nation


---
* Article may require subscription
---

---
                     1    2    3    4   -  Final 
Whites              13    8   10   15   -   46
Reds                17   17   18    3   -   55

1st quarter
RED - Taariq Allen 5 pass from Ryker Fyfe (Mauro Bondi kick)
RED - Imani Cross 20 run (Bondi kick blocked) 
2nd quarter
RED - Cross 39 run (Grant Schumacher kick) 
RED - Kevin Gladney 48 pass from Johnny Stanton 
     (Bondi kick failed)
3rd quarter
RED - Jamal Turner 25 pass from Johnny Stanton
     (Spencer Lindsay kick)
RED - Terrell Newby 1 run (Schumacher kick)

NOTE: Additional points were awarded for particular
      achievements by defense (Whites) and offense (Reds)

                                  WHITE        RED
FIRST DOWNS ........................  0         33
RUSHES-YARDS (NET) .................0-0     67-270
PASSING YDS (NET) ....................0        356
  Att-Comp-Int ...................0-0-0    48-25-3
TOTAL OFFENSE PLAYS-YARDS ..........0-0    115-626
Fumble Returns-Yards ...............0-0        0-0
Punt Returns-Yards .................0-0        0-0
Kickoff Returns-Yards ..............0-0        0-0
Interception Returns-Yards ........3-57        0-0
Punts (Number-Avg) ...............0-0.0      0-0.0
Fumbles-Lost .......................0-0        0-0
Penalties-Yards ...................1-15       4-25
Third-Down Conversions ..........0 of 0    8 of 23
Fourth-Down Conversions .........0 of 0     0 of 1

RUSHING
RED: I.Cross 6-100; J.Nelson 11-54; T.Newby 16-51;
     R.Fyfe 5-44; A.Taylor 14-41; J.Stanton 3-18;
     T.Broekemeier 1-5; T.Armstrong 6-minus 7; 
     Z.Darlington 5-minus 36

PASSING
RED: J.Stanton 8-12-0 135 2 TD; R.Fyfe 9-12-0 89 1 TD;
     Z.Darlington 3-11-1 21 0 TD; T.Armstrong 4-8-1 97 0 TD;
     T. Broekemeier 1-5-1 14 0 TD 

RECEIVING
RED: T.Allen 5-42; B.Reilly 4-92; L.Hovey 3-28; J.Turner 2-37;
     C.Ketter 2-10; K.Gladney 1-48; K.Bell 1-20; T.Evans 1-14;
     D.Sutton 1-14; S.Burtch 1-13; T.Newby 1-12; A.Taylor 1-7;
     G.Hart 1-6

Attendance: 61,772