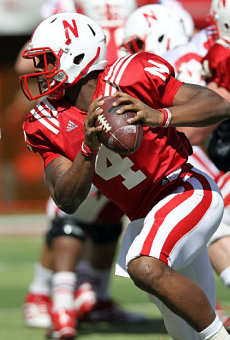 Courtesy of Huskers.com
COVERAGE
Stats & recap
Reds rally for Spring Game win:
Taylor Martinez and Tommy Armstrong Jr. joined forces to complete 13 of 17 passes for 207 yards and two touchdowns to rally the Reds to 32-25 victory.
Martinez completed 8 of 10 passes for 105 yards and a touchdown in the first half, but the Reds still trailed because of the precision passing of the Whites' Ron Kellogg III.
Jack Hoffman, a 7-year-old battling brain cancer, entered the game for the Reds in the fourth quarter and sprinted 69 yards for the final TD.  
Full Huskers.com recap here
Omaha World-Herald
Lincoln Journal Star
Other sources
Grand Island Independent
HuskerOnline
Associated Press
ESPN.com
NBC College Football Talk
Photos/Audio/Video
Pregame links & info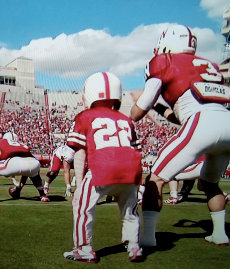 COMMENTARY
Vogel
"

Jack Hoffman's 69-yard fourth quarter touchdown run … was one of the most special moments on a field that's seen a lot of them."

Brandon Vogel, Hail Varsity
Dienhart
"

When Nebraska suits up next time, it will be for real. And the defense better be ready."

Tom Dienhart
BTN.com
Callahan
"

Armstrong and Kellogg looked more than serviceable."

Sean Callahan
HuskerOnline
Christopherson
"

The potential in Rich Fisher's receivers room is scary good right now."

Brian Christopherson*
Lincoln Journal Star
Cavanaugh
"

Sorry, Johnny Football. That's a Heisman moment even you can't create."

Brandon Cavanaugh
Corn Nation
Chatelain
"

This year, NU branched out. Tweaked the target audience. Modified the message."

Dirk Chatelain*
Omaha World-Herald
Sipple
"

In some ways, this was Pelini putting his stamp on the annual gathering."

Steve Sipple*
Lincoln Journal Star
Shatel
"

[Jack's run] goes down as the greatest thing you'll ever see at a spring game, and maybe any other Nebraska game."

Tom Shatel*
Omaha World-Herald
York
"

What America has here is a pint-sized national hero who's stolen hearts across the country."

Randy York
Huskers.com
Stryker
"

This day was a celebration of everything that is right about the University of Nebraska."

Tad Stryker
HuskerMax
Husker Mike
"

Overall, the defensive line looks like it's still a work in progress."

Husker Mike
Corn Nation


---
* Article may require subscription
---

April 6,
2013
— 2 p.m. CDT
Memorial Stadium, Lincoln | BTN
---
                  1    2    3    4   -  Final 
White            14    7    0    0   -   25
Red               3   14    7    6   -   32

1st quarter
WHI - King Frazier 1 run (Jack Gangwish kick) 12:49
RED - Mauro Bondi 50 field goal, 9:06
WHI - Graham Nabity 3 run (Gangwish kick) 2:36
2nd quarter
RED - C.J. Zimmerer 45 pass from Taylor Martinez
     (Bondi kick) 14:50
WHI - David Sutton 17 pass from Ron Kellogg
     (Spencer Lindsay kick) 7:59
RED - Imani Cross 12 run (Bondi kick) 2:42
4th quarter
RED - Alonzo Moore 37 pass from Tommy Armstrong
     (Bondi kick) 14:53
RED - Jack Hoffman 69 run, 6:41

NOTE - 4 points were awarded to the Whites and
       2 points to the Reds during drills midway
       through the first and second quarters

 
                                WHITE      RED
First downs                        17       15
  By rushing                        7        8
  By pssing                        10        7
  By penalty                        0        0
Rushes-Yards (net)             37-107   29-189
  Average per rush                2.9      6.5
Passing yards (net)               202      207
  Att-Comp-Int                26-17-0  18-13-0
  Average per attempt             7.8     11.5
  Average per completion         11.9     15.9
Total offense plays-Yards      63-309   47-396
  Average gain per play           4.9      8.4
Fumble returns-Yards              0-0      0-0
Punt returns-Yards                0-0      0-0
Kickoff returns-Yards            4-64     3-68
Interception returns-Yards        0-0      0-0
Punts-Avg.                     5-44.2   3-39.7
Fumbles-Lost                      2-0      2-0
Penalties-Yards                   1-5     2-15
Possession rime                 32:33    27:27
Third-down conversions        7 of 14   4 of 9
Fourth-down conversions        0 of 1   0 of 0
Red-zone scores-Chances           3-3      1-1
Sacks by: Number-Yards           2-13     4-27

RUSHING
WHI: K. Frazier 12-64; G. Nabity 11-33; J. Nelson 4-25;
     R. Kellogg III 1-5; A. Janovich 1-1;
     T. Broekemeier 2-(-2); Ryker Fyfe 6-(-19).
RED: J. Hoffman 1-69; I. Cross 7-55; M. Kuzu 7-28;
     T. Armstrong Jr. 10-26.

PASSING
WHI: R. Kellogg III 11-12-0 148; T. Broekemeier 3-7-0 43;
     R. Fyfe 3-7-0 11.
RED: T.Martinez 8-10-0-105; T. Armstrong Jr. 5-7-0 102;
     E. Williams 0-1-0 0. 

RECEIVING
WHI: J. Westerkamp 4-21; J. Long 3-72; J. Blum 3-32;
     R. Wynne Jr. 2-28; K. Bell 2-25; D. Sutton 1-17;
     K. Frazier 1-5; M. Marrow 1-2. 
RED: S. Cotton 3-19; A. Moore 2-59; B. Reilly 2-44;
     J. Turner 2-15, C. Zimmerer 1-45; Q. Enunwa 1-14;
     I. Cross 1-7; T. Foster 1-4.

Attendance: 60,174