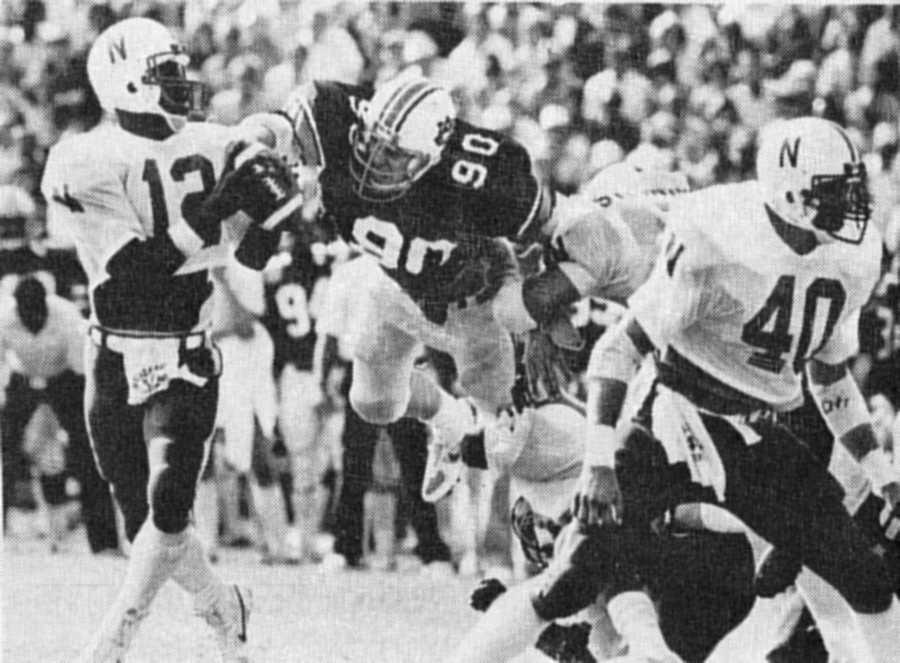 Turner Gill looks for a receiver under pressure from Vernon Blackard.
Nebraska 41
Auburn 7
Oct. 2,
1982
Auburn, AL

Nebraska     7   7   7  20  - 41 
Auburn       7   0   0   0  -  7

NU: Doug Wilkening 15 run (Kevin Seibel kick) 
AU: Bo Jackson 4 run (Al Del Greco kick)
NU: Todd Brown 58 pass from Turner Gill (Seibel kick)
NU: Mike Rozier 2 run (Seibel kick)
NU: Rozier 12 run (Seibel kick)
NU: Mark Schellen 41 run (Seibel kick)
NU: Tim Brungardt 13 run (kick failed)

A-73,900
                          NU        AU 
First downs               31        13  
Rushes-yards          68-342    43-171
Passing yards            162       116  
Return yards              13        18  
Passes               19-10-1    11-7-1  
Punts                 2-50.5    4-43.0  
Fumbles-lost             4-2       3-3  
Penalties-yards         3-45      3-15  
Time of possession     36:44     23:16

INDIVIDUAL LEADERS
Rushing
Nebraska, Rozier 24-88. Wilkening 9-60. Schellen 5-54. Gill 11-50. Jeff Smith 8-42.
Auburn, Lionel James 8-69. Ron O'Neal 8-40.

Passing
Nebraska, Gill 19-10-1-162.
Auburn, Randy Campbell 10-6-1-91.

Receiving
Nebraska, Brown 2-78, Jamie Williams 2-24. Shane Swanson 2-18.
Auburn, Chris Woods 3-59, Ed West 2-25.


Huskers' strong second half tames Tigers
Critics wondered whether Nebraska would be able to recover quickly enough from the previous week's heart-breaking loss at Penn State to handle a tough, unbeaten Auburn team on the Tigers' home turf-and for more than a half, there was plenty of reason to wonder.
The Huskers struggled to a 14-7 halftime lead and had an anything-but-safe 21-7 advantage after three quarters. Nebraska had benefited from two drive-ending Tiger fumbles to establish that lead, but the Huskers made some key defensive adjustments in the second half to shut off the home club's outstanding outside speed, and then scored on three consecutive possessions in the fourth quarter to make the final score a deceptively comfortable 41-7.
On the minus side, wingback Irving Fryar sprained an ankle, starting a series of injuries that kept him far from full speed for the next six games.
OMAHA WORLD-HERALD
ASSOCIATED PRESS
UNITED PRESS INTERNATIONAL
 
SERIES HISTORY
SEASON STATS
NU ROSTER
AUBURN ROSTER
AUBURN SCHEDULE