Nebraska 35
Utah State 14
Sept. 15,
1979
Lincoln, NE

Utah State     6    8    0    0  -  14
Nebraska       7    7    7   14  -  35

First Quarter
USU - Ricky Parros 19 run (kick failed) 12:29
NEB - I.M. Hipp 9 run (Dean Sukup kick) 5:42
Second Quarter
NEB - Junior Miller 43 pass from Jeff Quinn (Sukup kick) 11:32
USU - Ken Thompson 42 pass from Eric Hipple (pass to Brown good) 8:24
Third Quarter
NEB - Hipp 1 run (Sukup kick) 9:19
Fourth Quarter
NEB - Hipp 3 run (Sukup kick) 14:57
NEB - Tim Wurth 1 run (Sukup kick) 1:48

                             NU      USU
First Downs .................32       16
Rushing Net.................455      116
Passing Net .................96      219
  Comp-Att-Int. .........6-12-1  18-33-2
Total offense  .............551      335
Punts-Avg ................ 2-42     6-39
Fumbles-Lost .............. 3-3      1-0
Penalties-Yds ............ 5-54     8-81

LEADING NU RUSHER:
 I.M. Hipp 167
LEADING NU PASSER:
 Jeff Quinn 6-12-1 for 96 yards.
ATTENDANCE: 75,935
NU OFFENSIVE PLAYER OF GAME:
 I.M. Hipp 167 yards and 3 touchdowns.
NU DEFENSIVE PLAYER OF GAME:
 Brent Williams, 10 tackles, 8 unassisted.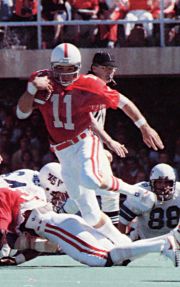 Official recap
Things were a little bit unsteady at halftime as Nebraska and Utah State were tied 14-14, but in the second half, it was the Huskers all the way as the NU squad beat the Aggies 35-14.
Nebraska had entered the season with somewhat of an unknown at quarterback, but by the time Jeff Quinn has finished, Husker fans saw a Nebraska quarterback rush for over 100 yards for the first time since 1964. Quinn finished with 112 yards.
The Husker offensive line was tremendous as it carried NU running backs for 455 yards. The leading rusher for the Cornhuskers was senior I.M. Hipp, who got 167 yards and scored three times. It was the first appearance of the transfer star Jarvis Redwine, as he carried the ball 10 times and finished with 91 yards.
In the first half, the Huskers' Blackshirt defense appeared to be shaken some by the fine play of Utah State senior quarterback Eric Hippie, but after a halftime adjustment, NU shut out the Aggies in the second half.
The Huskers' longest score came on a Quinn aerial to tight end Junior Miller, a 43 yard touchdown.
NOTE: Because someone miscounted, this was believed at the time to be Nebraska's 100th consecutive home sellout. It was actually No. 99, with No. 100 coming against Penn State two weeks later.