This week in Husker history
The week of April 22-28, looking back in five-year intervals: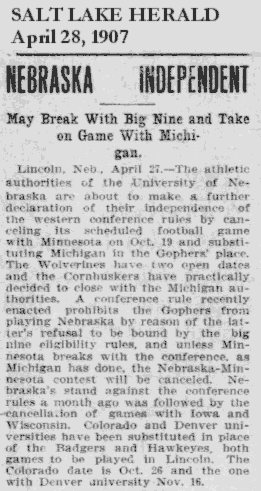 «
1907:
As Western Conference reforms cause havoc with sched­uling, there is talk that newly independent Michigan will replace Minnesota on NU's 1907 slate. The "Big Nine" wants all opponents to abide by the league's new eligi­bil­ity rules, which prohibit, among other things, freshman and postgraduate players. For this reason, Nebraska already has dropped games against Wis­con­sin and Iowa. The Minnesota game, however, ultimately would stand. (The Gophers won,
8-5
.)
1962:
New coach
Bob Devaney
sets the goals for spring drills, which are set to start April 2.
1967:
Bob Devaney is tapped to coach in an NFL rookie preseason game
in West Germany
. But plans for the June 25 game, dubbed the Stars and Stripes All-Star Game, would fall through.
1987: The Dallas Cowboys select Danny Noonan in the first round of the NFL draft.
1992:
Tight end
Johnny Mitchell
, the first Husker to leave school early for the NFL, is selected in the first round of the NFL draft by the New York Jets.
1997:
The Red squad almost blows a 31-7 halftime lead but hangs on to win the
spring game
. Also, a flap arises over the use of booster-club donations for non-coach
staff bonuses
.
2007:
The Rams choose Husker defensive end
Adam Carriker
in the first round of the NFL draft.
* Wayback Machine link – may take several seconds to load