This week in Husker history
The week of Feb. 19-25, looking back in five-year intervals:

«
1897:
Sparked by the November death of Doane player
Bert Serf
of Hastings, an effort to outlaw football is under way in the Nebraska Legislature – and is being skewered in newspaper commentary in
New York
,
Chicago
and elsewhere. The legislation has a high-profile sponsor in James N. Gaffin, speaker of the state House. But the bill has already taken something of a beating during
House debate
, and it will never see the light of day in the state Senate.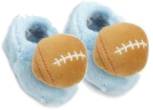 1937: Charles and Erma Osborne of St. Paul, Neb., welcome a baby son into the world and name him Thomas. The 75th birthday of Nebraska's Hall-of-Fame former football coach and current athletic director – born in Hastings on Feb. 23, 1937 – is Thursday.
1967:
Nebraska athletic director
Tippy Dye
, the man who hired Bob Devaney as football coach, accepts the A.D. job at Northwestern after a five-year stint in Lincoln.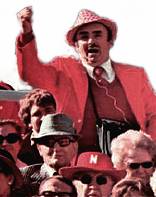 «
1992:
Nebraska loses one of its biggest fans when
Charlie Winkler
suffers a fatal heart attack at his Grand Island home. Winkler, 69, was said to have attended every Husker football game since 1957. "I won't smoke, drink or gamble, but these Huskers are my life," he once explained in an inter­view. Winkler wrote a book titled "My Big Red Ob­ses­sion" and was the subject of a 1975
Sports Illustrated
article. At his fu­ner­al at Trinity United Methodist Church, the NU fight song was played.
2002:
There are high hopes about the future of an 18-year-old quarterback who is on campus after graduating from high school a semester early –
Curt Dukes
,* of Stony Point, N.C. (Dukes would rise as high as
No. 2
on the depth chart but would never play a down for the Huskers, opting to transfer to
Duke University
.)
2007:
Sam Keller
* avoids sounding like the anointed one as the transfer from Arizona State prepares to
battle
for the quarterback spot with
Joe Ganz
. Meanwhile, fallout from the ouster of trainer
Doak Ostergard
starts to spill into the public arena.
* Wayback Machine link – may take several seconds to load