This week in Husker history
The week of June 17-23, looking back in five-year intervals: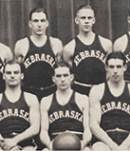 «
1927:
Basketball
at Nebraska and several other Missouri Valley Conference schools is reported to be operating in the black, easing the drain on football profits by other sports.
1987:
All-America middle guard
Danny Noonan
is named Big Eight Conference Male Athlete of the Year. |
Bio
1992:
The three finalists for athletic director are announced, and
Al Papik
– the favorite of Bob Devaney and Tom Osborne – is not among them.
2002:
With help from his friends, former Husker
Bob Hohn
* battles amyotrophic lateral sclerosis, also known as Lou Gehrig's disease. (Hohn passed away on Nov. 27, 2003.)
2007:
Tom Dienhart of Sporting News sees
trouble brewing
for the Big 12 Conference.
* Wayback Machine link – may take several seconds to load