This week in Husker history
The week of July 8-14, looking back in five-year intervals:
1937:
Sam Francis
, Nebraska's All-America fullback, signs with the Chicago Bears.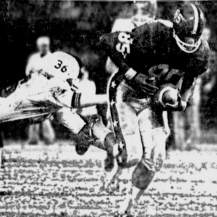 «
1967:
Coach Bob Devaney's
underdog
West squad domin­ates stat­istic­ally, but QB
Steve Spurrier
rallies the East to a 12-9 win in the Coaches All-America game in Atlanta. In photo, Ne­bras­ka's Larry Wach­holtz makes a futile dive at Michigan State's Gene Washington on the East's game-winning play. Also on the West roster were NU's Kelly Petersen and Harry Wilson.
1972:
Big Eight schools report brisk
ticket sales
after the league's unprecedented
1-2-3 finish
in the final 1971 AP poll.
1982:
After winning the Outland Trophy and being named the Big Eight's offensive player of the year in 1981, Nebraska center
Dave Rimington
says he won't be resting on his laurels during his senior season.
1997:
Former Husker Trev Alberts' latest
injury problem
draws the scorn of his Indianapolis Colts teammate
Jim Harbaugh
. (Alberts, the No. 5 pick in the 1994 NFL draft, would retire from football a week and a half later.)

«
2002:
Herm Rohrig
,* whose 33-yard aerial to Allen Zikmund still stands as the only Husker touchdown pass in a
Rose Bowl
, dies at
age 84
in Lincoln.
2007:
Blue-chip offensive lineman
Trevor Robinson
of Elkhorn reconsiders his Nebraska
commitment
. (He later would decommit and sign with Notre Dame.)
*Wayback Machine link -- story may take a few seconds to load