This week in Husker history
The week of Jan. 15-21, looking back in stretches of years divisible by five: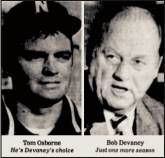 1937:
Coach Dana X. Bible prepares to bolt to
Texas
. The future College Football Hall of Fame coach would compile a record of 63-31-3 there after going 50-15-7 at Nebraska.
1957:
Pete Elliott
takes the head coaching job at Cal after just one season at Nebraska, and
Bill Jennings
is picked to succeed him.
1977:
Vince Ferragamo tosses two touchdown passes as his West team wins the
Japan Bowl
.
1992:
The tragic case of
Scott Baldwin
and his mental illness begins to unfold with an
assault
in Lincoln.
2002:
Jim Rose
* gets ready for his new role as the Huskers' radio play-by-play man.
2007:
Brandon Jackson decides to forgo his senior season as he announces his entry in the
NFL draft
.
* Wayback Machine link – may take several seconds to load