This week in Husker history
The week of March 11-17, looking back in five-year intervals: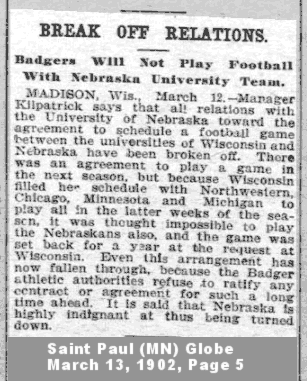 «
1902:
Nebraska is hit with another
scheduling snub as Wisconsin backs out of a game with the Cornhuskers. The teams had played in 1901 in Milwaukee but would not meet again until
1965
.
1967:
Bob Devaney is appointed
athletic director
** after Tippy Dye's departure for Northwestern. Devaney would pull double duty as football coach and A.D. for six seasons.

1977:
There's a national champion on the team, as Husker wide receiver
Jeff Lee
wins the 60-yard high hurdles in the NCAA men's indoor track and field championships. The 6-foot-2, 180-pounder from Racine, Wis., would finish his NU football career with one catch for six yards.
1992:
The Big Eight Conference decides there will be
no forfeits
* in the Omar Soto eligibility case. Also, former Husker running back
Roger Craig
goes from the Raiders to the Vikings after being snubbed by the 49ers.
1997:
Lawrence Phillips
goes to jail
for violating probation.
2002:
The addition of an Aug. 24th game against
Arizona State
* in the BCA Classic gives Nebraska an unprecedented 13-game regular season. It's also the earliest start to a Husker football season.
2007:
Bo Ruud
moves to strongside linebacker as a number of position switches are announced in advance of spring drills.
* Wayback Machine link – may take several seconds to load | **Article summary only