This week in Husker history
The week of Feb. 26-March 3, looking back in five-year intervals: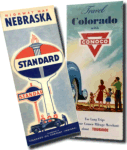 1947:
The
Big Six
conference gets ready to grow to seven as it agrees to admit
Colorado
. The move creates an annual border-state clash between the Huskers and Buffaloes, teams that last met in 1907. The league's decision to change its formal name to "Mid-West Conference" would soon be reversed – and in an odd twist, it could be said that CU moved from the
Big Seven to the Big Seven
. |
NU-CU series
1962:
Dick Monroe
, an assistant coach during Bill Jennings' five-year tenure at Nebraska, joins the staff at Idaho, whose new head coach is another former NU assistant, Dee Andros.
1967:
Bob Devaney
re-evaluates
his offense in the after­math of the Sugar Bowl drubbing and considers adding the I for­ma­tion to NU's existing mix of formations: unbalanced T, pro-style and spread.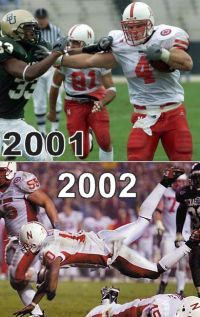 «
2002:
Tradition­alists cringe at the announce­ment of a pending
redesign
* of Husker uniforms. With the unveiling still months away, fans are left to guess how extensive the redo will be. The new look would be scrapped after just one season.
2007:
Former Husker, Packer and Steeler
Lloyd Voss
dies in
Pittsburgh
at age 65. Also, Bill Callahan's
agent
* hopes for a contract extension for the head coach, who has taken the Huskers to their first January bowl since the 2001 season.
* Wayback Machine link – may take several seconds to load