Official recap
Nebraska struck early, gallantly fought off a Colorado upset bid and socked home two late touchdowns to whip the Buffaloes, 29-13.

A record crowd of 50,881 and a near-nationwide ABC-TV audience saw the highly ranked and favored Huskers pop the rugged Buffs. Nebraska grabbed a 12-0 first-quarter lead on two long Van Brownson-to-Guy Ingles TD pases but had to settle for a 12-7 halftime margin. Paul Rogers' 46 yard field goal made it 15-7 in the third quarter.


Kinney

Then Colorado ripped back to pull up 15-13 but missed a two-pointer that would have tied the score with 11:22 left in the game. But it was all Nebraska from then on, as Jeff Kinney returned the ensuing kickoff 79 yards to set up a touchdown, and Larry Jacobson recovered a Cliff Branch fumble at the CU 40 to set up another.


Schneiss

H'MAX NOTES: Ingles' TD catches capped drives of 68 and 79 yards. ... Kinney credited Dan Schneiss with providing a key block on his pivotal kickoff return. ... Colorado surprised Nebraska by using speedy receiver Cliff Branch as a wingback. Branch averaged more than 10 yards per carry. ... Colorado marched 93 yards for its first touchdown, with Branch and Jon Keyworth doing most of the damage on the ground. ... Joe Blahak's tackle of Branch at the goal line prevented the Buffs from tying the game 15-15 on CU's two-point try early in the fourth quarter. ... Will Grimsley of the Associated Press had predicted a 27-20 CU upset victory. ... The crowd included an estimated 15,000 Husker fans.

ASSOCIATED PRESS
SERIES HISTORY
SEASON STATS | NU ROSTER
NU MEDIA GUIDE'S CU PAGE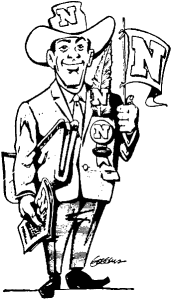 Nebraska 29
Colorado 13
Oct. 31, 1970
Boulder, CO
Nebraska     12   0   3  14 — 29
Colorado      0   7   0   6 — 13

First Quarter
NU — Guy Ingles 35 pass from Van Brownson
    (Paul Rogers kick failed), 11:17
NU — Ingles 39 pass from Brownson (PAT pass failed), 2:53
Second Quarter
CU — Cliff Branch 7 run (Dave Haney kick), 2:14
Third Quarter
NU — Rogers 46 field goal, 2:17
Fourth Quarter
CU — Jim Bratten 5 run (PAT run failed), 11:22
NU — Brownson 1 run (Rogers kick), 9:27
NU — Jeff Kinney 7 run (Rogers kick), 5:34

                           NU       CU
First Downs .............. 19       16
 By rushing .............. 11       15
 By passing ..............  6        1
 By penalty ..............  2        0
Rushes, Net yards .... 55-153   54-297
Passing, Net ............ 173       40
 Att-Comp-Int ....... 11-17-2   5-18-2
Total Offense ........... 326      337
Punts-average ........ 6-36.7   6-35.1
Punt returns-yds ........ 0-0      2-8
Kickoff returns-yds ... 3-117    6-152
Fumbles-lost ............ 3-1      2-2
Penalties-yards ........ 5-29     7-33

RUSHING
NU: Orduna 18-58, Kinney 11-39, Schneiss 6-33,
    Brownson 14-30, Olds 1-3, Vactor 1-3, Rodgers 4-(-13)
CU: Keyworth 24-118, Branch 9-95, Tarver 6-44,
    Bratten 9-20, Walsh 6-20

PASSING
NU: Brownson 17-11-0, 173 yds, 2 TD; Tagge 1-0-1, 0 yds, 0 TD;
    Schneiss 1-0-1, 0 yds, 0 TD
CU: Bratten 18-5-2, 40 yds, 0 TD

RECEIVING
NU: Ingles 5-112, Rodgers 3-35, Schneiss 2-18, Kinney 1-8
CU: Branch 3-18, Dal Porto 1-15, Masten 1-7

 NU BACK OF GAME: Van Brownson.
  Hit 11 of 17 passes for 173 yards and two
  TDs. Also ran for 30 yards.

	
 NU LINEMAN OF GAME: Guy Ingles.
  Caught five passes for 112 yards and two
  TDs (35 and 39) in first quarter to get Nebraska
  a lead that held up for victory.

Attendance: 50,881