Pernell: Nebraska's 2021 O-Line Class
After several impressive offensive line hauls by Greg Austin, you're starting to see some of the younger pieces take over prominent roles. Cam Jurgens, Bryce Benhart, Turner Corcoran and Ethan Piper are underclassmen expected to be fixtures for years to come. That allows Austin to continue stacking players behind them with time to develop.
Elkhorn South's Teddy Prochazka was the first of what would eventually be seven in-state prospects for the 2021 class to receive a scholarship offer. It came on the same day Frost got his first win as coach of Nebraska, against Minnesota on October 20, 2018. Already standing 6-foot-7, Prochazka was quickly becoming a coveted regional prospect after a successful camp tour earlier that summer, including Nebraska's first Big Man Camp. Frost made sure to get involved early for Prochazka, despite the fact he was just starting his sophomore season. It was a smart move. Soon, additional offers came rolling in from Michigan, Miami, Iowa State, Northwestern, Minnesota, Kansas State, Arizona State and Kansas. By the following summer, Prochazka was hearing from several other prominent programs including Notre Dame, LSU and Florida State. Had Prochazka extended his recruitment, he would have likely added several more offers.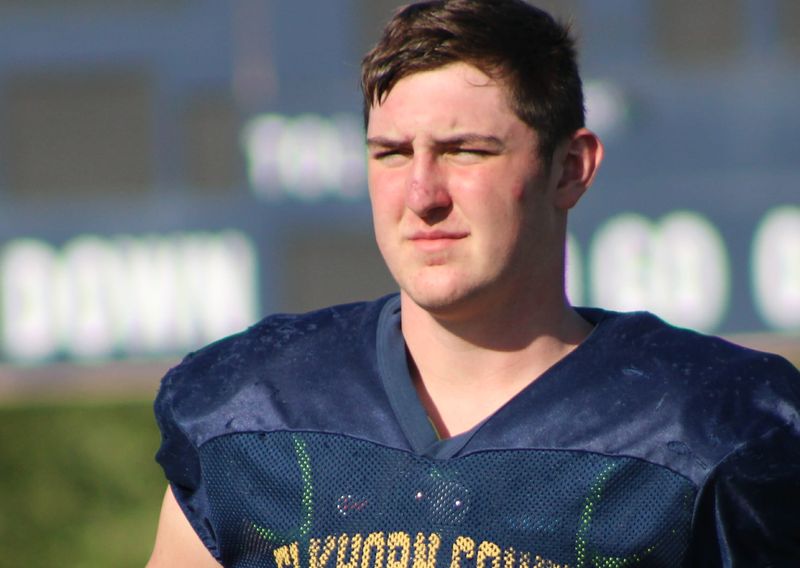 Teddy Prochazka
Fortunately for Nebraska, the hometown kid had his heart set on the Huskers and wanted to make an early commitment. Prochazka was a visitor for Nebraska's home game against Ohio State on September 28, 2019. He decided to commit to the Huskers over Northwestern and Kansas State during pregame warm-ups. Prochazka spent several minutes prior to kickoff celebrating by exchanging high-fives, hugs and handshakes with Nebraska coaches and staffers.
Now listed at 6-foot-9 and 280-pounds, Prochazka has the physical profile and athletic tools to develop into an elite tackle. He has the frame to easily get into the 320-330 range eventually and not lose any of his athleticism. Elkhorn South often pulls their tackles and Prochazka is extremely comfortable in space and moves very well. Despite being so tall, Prochazka has a nice bend, plays with good leverage and is more athletic than many linemen who are three or four inches shorter. Prochazka is a very good pass blocker at the high school level, although he will need to continue to get stronger and work on his run blocking. He has a nice punch and plays with a mean streak, which you love to see, and is very competitive. Prochazka has been working with former Husker offensive lineman Matt Vrzal for several years and that's helped him hone his fundamentals. Prochazka will need a few years to mature into his frame and add the strength needed to handle the rigors of the Big Ten. With underclassmen tackles like Corcoran, Benhart and Brant Banks ahead of him, the staff will be allowed to bring him along slowly. Prochazka is rated a four-star recruit and ranked the No. 75 player in the country by Rivals. He enrolled in January and will participate in spring ball.
Another elder statesman of the class is Mount Pleasant (IA) High School's Henry Lutovsky. An early target of Austin's, the Huskers offered the 6-foot-6, 320-pounder on April 25, 2019, a couple weeks after he'd visited for the spring game. With additional early offers from Missouri and Iowa State, Lutovsky vaulted toward the top of Nebraska's O-line board immediately. He was one of the priority 2021 recruits invited to the Big Red Barbecue in June of 2019, when the focus was primarily on the 2020 class. The Huskers made huge in-roads for the lineman during that visit. Lutovsky had the chance to get to know the staff better, but just as importantly, he became fast friends with Teddy Prochazka, as well as 2020 guys like Turner Corcoran and Nash Hutmacher.
Lutovsky would go on to be a repeat visitor, attending several games during the 2019 season. After receiving a Georgia offer in October, Lutovsky seemed on the verge of becoming a national target. Luckily for the Huskers, Lutovsky had grown close to the coaches and was ready to shut down his recruitment. On November 17, 2019, he did just that, committing to Frost during an unofficial visit for the Wisconsin game. Along with Prochazka, he would go on to become an active peer recruiter over the next year.
He could probably play right tackle in a pinch, but Lutovsky is a prototypical Big Ten guard. Already an exceptional run blocker, Lutovsky's a road-grader whose film and style of play is reminiscent of the mammoth linemen Wisconsin has gotten famous for producing. He's extremely aggressive and competitive. Lutovsky seems to take pride in manhandling the guy in front of him. He's more agile than you'd expect from a kid his size and displays good foot quickness. Lutovsky will need to continue to improve as a pass blocker, but all the tools are there. He slides well and has a very good punch. An early enrollee, Lutovsky will arrive in Lincoln already being one of the strongest guys on the team. He's already squatting over 600 pounds and benching well over 400.
Lutovsky is ranked as the No. 13 guard in the country by Rivals. He's a two-time all-state pick by the Des Moines Register, and was named to the 2020 All-Iowa Elite Team, comprised of the best players in the state regardless of class.
The final piece of the O-line class is Branson Yager out of Grantsville High School in Utah. Like many kids in this class, Yager had never been to Lincoln, nor had he ever met the coaches in person. He was hoping to change all of that during an unofficial visit on March 14, but that never happened thanks to the recruiting shutdowns in response to the onset of the coronavirus. Instead, Husker coaches gave Yager and his family a virtual tour and extended an offer on March 16.
Without a doubt, the lack of a normal spring evaluation period affected Yager's recruitment, although he did get a chance to hit the road prior to the shutdown. On February 23, Yager participated in the Under Armour Camp Series in Phoenix, where he showed well in one-on-ones, going against some of the region's top pass rushers. Soon after, Yager began to receive a steady stream of offers. By April, the 6-foot-8, 330-pounder held additional offers from BYU, California, Iowa State, Vanderbilt and Virginia. Under normal circumstances, Yager would have pushed his recruitment into the summer months and taken advantage of the camp season. But the coronavirus shutdowns accelerated the timelines of most the kids in the 2021 class, Yager included.
Husker coaches were transparent with Yager, they planned to take three offensive linemen and with Prochazka and Lutovsky already on board, they were zeroing in on a handful of guys to close with. Not wanting to lose his spot with the team he was steady favoring, Yager committed to the Huskers over Iowa State on April 27. In doing so, Yager became the first Utah native to sign with Nebraska out of high school since Jared Afalava in 2012. A member of the Church of Latter Day Saints faith, Yager received assurances from Frost that should he choose to go on a two-year mission at some point, his scholarship would be deferred. An early enrollee already on campus, as of right now, Yager plans to focus on football.
As a junior, Yager was picked by Utah high school coaches as a second-team all-state tackle in Class 3A. His potential is obvious, but he's raw and just starting his development. He's precisely the sort of prospect Greg Austin loves to add to his room. Yager isn't a finished product by any means, and to Austin, that's a good thing. Yager's a giant specimen, but he too knows he'll need at least two or three years to get stronger while he reshapes himself and matures into his frame. He's talked openly of welcoming the chance to go through the growth process physically and fundamentally at Nebraska.
Along with being the starting defensive tackle and long snapper, Yager played both left and right offensive tackle for the Cowboys, but his best position in college is likely on the right side at tackle. Yager is strong at the point of attack and moves his feet well for a young man his size. He'll need to work on his bend and lateral quickness, but he plays well in space, thanks to being asked to pull and get to the second level often for the Cowboys. Yager's a bit slow out of his stance and has plenty of technique work ahead of him, but he plays hard and is a tenacious run blocker. Yager's an underrated athlete with really good tools to work with.
2021 analyses
Prior to contributing to HuskerMax, Jeremy Pernell co-founded the all-football website N2FL.com. From 2002-2014, he served as the editor in chief of the college football portion of the website which focused heavily on talent evaluation, which included NCAA recruiting and the NFL Draft. He has analyzed and covered the NCAA and NFL for 25 years. You can email him at jgpernell@comcast.net.
---
---
---
---