Pernell: Nebraska's 2021 TE Class
One of the goals of this recruiting class was to replenish a tight end room that is graduating Jack Stoll and is full of upperclassmen. The Huskers did not sign a tight end in the 2020 class and the lone tight end they signed in the 2019 class (Chris Hickman) made the transition to wide receiver last season. The Huskers were able to put together a tight end class that is widely considered to be among the best in the country.
The headliner of that group – and the class – is Lewis Central (IA) High School star Thomas Fidone II. Frost offered the 6-foot-5, 220-pounder back on September 28, 2019, when Fidone was in town to watch the Huskers take on Ohio State. Nebraska was his third offer, following in-state offers from Iowa and Iowa State by a few weeks. Almost immediately, Fidone became the No. 1 overall target for the 2021 class.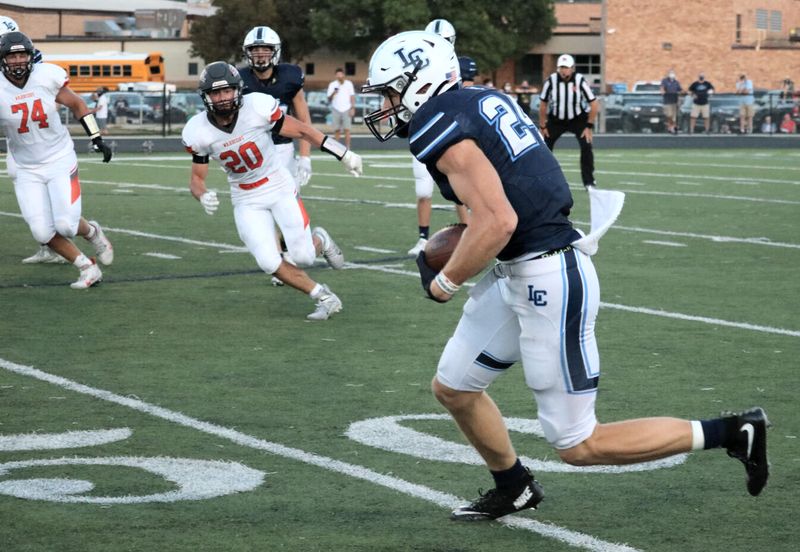 Thomas Fidone II
Initially, Fidone was regarded as a top regional target, but he blew up nationally after a standout performance at the All-American Underclassmen Combine last January. He ran a 4.7 laser-timed 40-yard dash on a notoriously slow track inside the Alamo Dome, and then excelled in individual drills and one-on-ones. For his efforts, he was named to the All-Combine team and designated the top tight end in attendance. His recruitment exploded after that. He would eventually garner upwards of 40 offers, including Alabama, Auburn, Florida, Florida State, Georgia, Miami, Notre Dame, Ohio State, Ole Miss, Penn State, South Carolina, Tennessee, Texas, Texas A&M, USC, Utah and Wisconsin, among dozens of others. Fidone is considered a four-star prospect by all three major recruiting services and is ranked as the No. 35 (Rivals), No. 45 (247Sports) and No. 271 (ESPN) overall player in the country. Along with that, 247Sports and Rivals both consider Fidone the No. 1 tight end in the country. He was also selected to the prestigious All-American Bowl.
Despite already being considered one of the top prospects in the 2021 class, in late July, Fidone decided to participate in the Warren Academy's Top Prospects Showcase, an event run by former Nebraska defensive lineman Steve Warren. Fidone ran 40-yard dash times of 4.64 and 4.63 seconds and jumped 37.4 inches. Then, much like the Underclassmen Combine, Fidone went on to dominate his one-on-ones and made several one-handed grabs.
By this time, Fidone had narrowed his focus to four schools: Nebraska, LSU, Iowa and Michigan. On July 31, a few days after the Warren Showcase, Husker commits Heinrich Haarberg, Teddy Prochazka, Henry Lutovsky and Seth Malcom took it upon themselves to give Fidone a COVID-19 altered "official visit", as they would describe it. The group hung out and stayed the night at Prochazka's house that Friday, then rode together in Haarberg's Ford Raptor the following day to meet up with current Husker players including Bryce Benhart, Turner Corcoran, Garrett Snodgrass, Kurt Rafdal and others. They all got together for a meal at The Watering Hole in downtown Lincoln.
Thomas and his family grew up diehard Husker fans. He has admitted to crying as a youngster when the team would lose. On August 26, he fulfilled a lifelong dream and committed to Nebraska. A second-team preseason USA Today All-American, Fidone caught 43 passes for 845 yards and 10 touchdowns as a senior, despite facing constant double and triple teams. For his efforts, he was named Sports Illustrated First-Team All-American.
When you watch Fidone's film or observe him in camp settings, you are immediately taken back by his skill set and athletic profile. He has an ideal frame and his verified testing results speak to his athleticism. When you combine that with his 85-inch wingspan, you can start to imagine the sort of headaches he's going to cause Big Ten defensive coordinators. He fits the mold of the new era tight end. He can line up in multiple spots across a formation; out wide, in the slot or attached to the line. He can even line up in the backfield and be used as a blocker or on slip screens.
Fidone is a natural receiver and that's the strength of his game at this point. I contend he's one of the best receiving tight ends to come out the past several classes, in fact. He's explosive off the line and is already an exceptional route runner. He's a smooth athlete with rare foot quickness for someone his size, which allows him to get in and out of his breaks like a wide receiver. He's adept at attacking the leverage of defensive backs and can turn them around with double-moves. Fidone is also a deep threat. His ability to get behind the defense and track the ball in the air is outstanding.
Fidone's catch radius and hands are truly elite. He's made a career out of making highlight-reel catches look routine and consistently makes plays in traffic with defenders draped all over him. Fidone is really good at using his frame to shield defenders from the ball. Obviously, he'll be a huge red zone threat with his size and leaping ability. Fidone is superb at high-pointing the football and will win the vast majority of 50-50 balls. He's going to be a matchup nightmare in college. Fidone will be bigger than any defensive back he'll face, and there are very few linebackers who will have the speed or coverage skills to hang with him.
The only real deficiency in his game right now is needing to get stronger and more physical as a blocker. He didn't play much in-line tight end for Lewis Central, so it's not too surprising he'll need to work on his technique. Fidone's an early enrollee, so there's little doubt he'll get right to work on addressing those things. Fidone has all the makings of an immediate contributor. He's a hard worker, natural leader and incredibly competitive. Prospects like Thomas Fidone don't come around very often. He has true superstar potential. With his physical makeup and inner-drive, Fidone has the potential to develop into one of the best tight ends in the country and a high NFL draft pick.
It had long been assumed the staff was planning to add two tight ends in this class. Outside of Fidone, the staff was also focusing on a handful of others last summer. Among them was Creighton Prep's AJ Rollins. The 6-foot-6, 230-pound Rollins emerged on the scene in the summer of 2019, landing his first offer from the Huskers on June 4 after a strong performance at a Husker camp in front of the coaching staff.
Rollins has the frame and athleticism to potentially play both sides of the ball. He impressed during 7-on-7 work as a tight end, but it was his work at defensive end that actually caught the staffs attention during that camp. Nebraska coaches on both sides of the ball were intrigued by Rollins and were lobbying for him. But it was decided relatively early that he would be targeted as a tight end. Rollins would eventually take multiple visits to Lincoln following that offer. He also visited Missouri and Iowa State – where his cousin Breece Hall was just named first-team All-American as a running back. Both schools, as well as Central Florida, followed Nebraska with scholarship offers.
Two days after Fidone jumped on board, Rollins joined him in the class on August 28. His first love is admittingly basketball, and he held out hope of getting the opportunity to play hoops in college. His time on the hardwood has aided in his footwork and coordination – traits he has translated to the football field. Rollins is a nice athlete with good quickness who shows the ability to catch in traffic and use his size to win 50-50 balls. His time bodying-up in basketball has helped him use his frame to shield defenders from the ball in tight quarters. He is a nice compliment to Fidone. Rollins played on the ball more as a traditional tight end for the Junior Jays. His frame and growth potential point to him developing and hopefully filling a need there for the Huskers in the future.
One of the more interesting recruitments in this class, and one that caused the most handwringing among fans, was of James Carnie. The 6-foot-5, 220-pound product out of Norris High School had long been a coveted player for several schools in the Mountain West and MAC conferences. By early spring, Carnie had collected offers from Colorado State, Miami (Ohio), Buffalo, Ohio, Bowling Green, Toledo, New Mexico and Eastern Michigan.
Carnie says he weighed just 193-pounds after his junior season ended in November of 2019. He wanted to get on the radar of Power Five programs, so he knew he would need to be diligent in his training and build his body up. Last January, he attended the same All-American Underclassmen Combine in San Antonio as Thomas Fidone. He was solid in drill work, but his athletic numbers were relatively average. He'd gained over ten pounds and showed up weighing 204 for the event. He ran a 5.1 in the 40-yard dash, posted 5.68 seconds in the 20-yard shuttle and recorded a 30.5-inch vertical jump. Numbers you'd expect from someone coming off their junior year and being recruited by mid-major programs. But Carnie wanted more, and he continued to grind and began training with Lincoln-based speed trainer Christopher Slatt. Carnie would work with Slatt four or five days a week and lift six times a week. He spent the next few months packing on an additional 20 pounds. But with the coronavirus shutting down the spring evaluation period, kids like Carnie would get overlooked.
With the pandemic jeopardizing recruiting opportunities, Carnie decided to commit to Miami (Ohio) in mid-May to solidify a spot. That didn't stop him from striving for an opportunity at a higher level. On July 25, Carnie attended the Warren Academy's Top Prospects Showcase in Omaha. He excelled in his one-on-ones and the athletic numbers he put up turned heads. Weighing in at 222-pounds, Carnie ran 4.60 in the 40-yard dash, posted 4.30 seconds in the 20-yard shuttle and recorded a 32.8-inch vertical jump. The progress he'd made in six months was enough to catapult him onto the radar of several Power Five programs. Iowa, Iowa State, Kansas State, Pittsburgh, Virginia Tech and UCLA were among the schools who quickly ramped up communications. Boise State, who offered in late June, also continued to try and push him off of his commitment to the Redhawks.
As the 2020 High School season got underway, Carnie immediately displayed the remarkable improvements he made both physically and developmentally since his junior season. After putting a few weeks of quality film onto his résumé early in Norris' season, Iowa came through with an offer on September 12. Within hours, Carnie decommitted from Miami (Ohio). Days later, Kansas State offered, followed by Pitt in late September. Carnie's dream, however, continued to be a Nebraska offer. The staff had Carnie in Lincoln for a Junior Day late last January and had been in constant communication since spring. The two sides spoke like clockwork every Sunday and Thursday, and the message had long been the same. The Huskers liked Carnie and were trying to crunch numbers to find a way to include him in the class.
That's the same message they were conveying in September, except by then, Carnie decided he had enough ammunition to force the issue. His profile had continued to grow and he was satisfied with the options available to him. Not wanting to lose out on an opportunity with Kansas State or Iowa, on October 1, Carnie publicly announced he would be announcing his decision on October 12. Sean Beckton had been politicking to offer Carnie since the summer. With Carnie's deadline removing the leisurely approach, Frost called Carnie on Sunday, October 4, and extended a Husker scholarship offer. After the two ended their conversation, Carnie spent about 30 minutes confirming with his family before calling Frost back to accept. Carnie informed coaches at Iowa, Kansas State and Pittsburgh on Tuesday, then went public with his planned announcement on Monday the 12th.
Carnie offers some position flexibility. The plan is certainly for him to play tight end, but his frame and athleticism provides some options to the staff. I'm sure Mike Dawson wouldn't be opposed to seeing him move into his room as an outside linebacker. It was actually his early defensive film as a senior that prompted the offer from Iowa. According to Ty Twarling, his coach at Norris, it was Carnie's increased physicality as a senior that helped more than anything in gaining the extra attention he received from Power Five programs. Carnie began playing defensive end as a junior and it was his growth and comfort level playing aggressive and physical there that really opened eyes. That aggression, physicality and confidence carried over to his play at tight end as well.
Nebraska is getting a player who is just starting to hit his stride and tap into his potential. Carnie was a multisport athlete who ran the 100, 200, 400, and 400-meter relay at Norris. He has a high ceiling as a receiving threat from the tight end position. He'll need to improve his strength and continue to work on his run blocking. Carnie will need a couple years to grow and develop and he's facing a huge jump in competition in the Big Ten coming from Class B in Nebraska. He'll benefit as an early enrollee.
2021 analyses
Prior to contributing to HuskerMax, Jeremy Pernell co-founded the all-football website N2FL.com. From 2002-2014, he served as the editor in chief of the college football portion of the website which focused heavily on talent evaluation, which included NCAA recruiting and the NFL Draft. He has analyzed and covered the NCAA and NFL for 25 years. You can email him at jgpernell@comcast.net.
---
---
---
---