Pernell: 2021 Class RB Gabe Ervin
For the first time under Scott Frost, the Huskers only took one running back in the class.
Gabe Ervin Jr.
enrolled early at Nebraska and will throw his hat into the ring to replace Dedrick Mills this fall. Ervin played for Buford High School, a powerhouse program in Georgia. The Wolves, who moved up to Georgia's largest classification this season, won a state championship for the second straight year. In fact, Buford has won eight state titles since 2007 and has appeared in a state title game 17 times in the last 21 seasons.
As a junior, Ervin rushed 180 times for 1,210 yards (6.7 per carry) and 13 touchdowns while splitting carries with two upperclassmen running backs who signed with Division I schools. He followed that up with 1,041 yards (more than 7 yards per carry) and 17 touchdowns as a senior. Ervin also ran track. As a sophomore, he clocked 48.87 in the 400 meters and 22.51 in the 200 meters. Like Haarberg, his junior track season was canceled due to the coronavirus.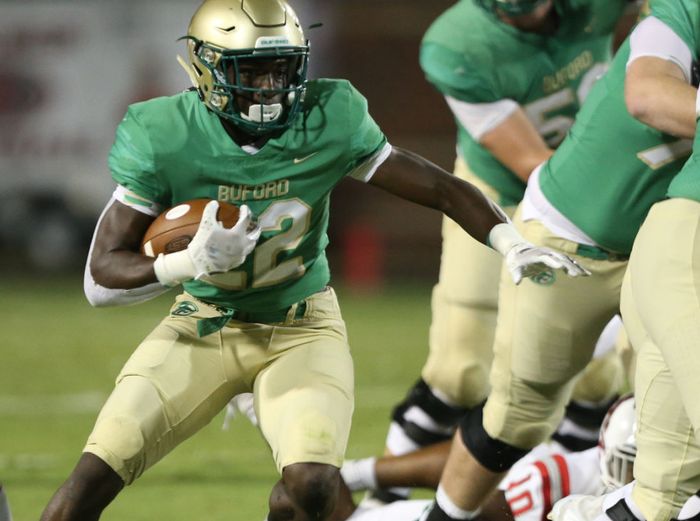 Ranked among the nation's top 30 running backs by both Rivals and ESPN, Gabe Ervin was a longtime target of the Huskers. Over the years, the staff, particularly Sean Beckton, have developed a nice relationship with the coaches at Buford. Beckton, along with Ryan Held, vigorously recruited Ervin since offering him a scholarship back on May 6, 2019, during the spring evaluation period. Ervin collected over two dozen offers including Arkansas, Colorado, Florida State, Georgia Tech, Iowa, Louisville, Maryland, Miami, Michigan, Ole Miss, Tennessee, Texas, USC, Virginia Tech and others. He chose the Huskers on June 23, 2020, over fellow finalists Georgia, Arizona State, Michigan State and Duke.
At 6-foot-1, 190-pounds, Ervin is a bigger body back with the frame to carry 220+ pounds and still maintain his speed and athleticism. At Buford, he was an impressive between-the-tackles downhill runner. He ran hard while showing good patience and impressive balance. One of the things you have to like is that he rarely fumbled. He played bigger than his listed weight and showed a lot of power, consistently breaking arm tackles. Ervin has really good vision and is adept at seeing the hole develop and getting north-south in a hurry. Always seems to fall forward and get those few extra yards after contact. Has a nice wiggle to him and can make defenders miss. Ervin also has reliable hands catching the ball out of the backfield and has the speed to take it the distance from almost anywhere on the field. At Buford, he would often outrun defenders that seemingly had the angle on him. Ervin is a really good all-around player. He has the size and strength to be an every-down back for Nebraska.
2021 analyses
Prior to contributing to HuskerMax, Jeremy Pernell co-founded the all-football website N2FL.com. From 2002-2014, he served as the editor in chief of the college football portion of the website which focused heavily on talent evaluation, which included NCAA recruiting and the NFL Draft. He has analyzed and covered the NCAA and NFL for 25 years. You can email him at jgpernell@comcast.net.
---